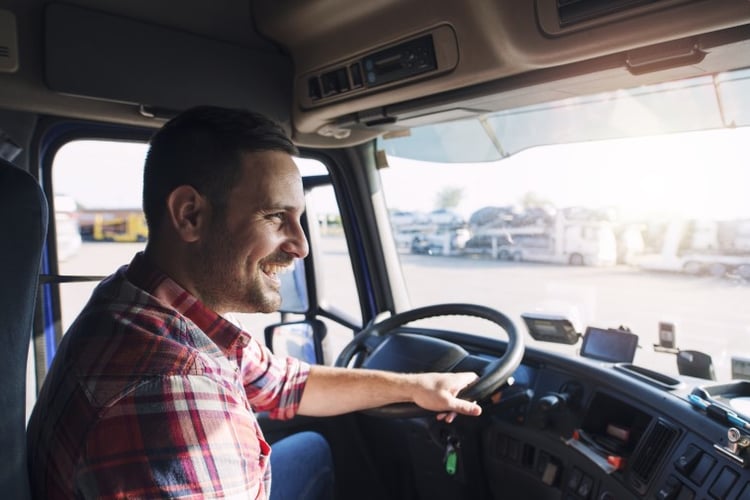 Because truck drivers are sitting for an extended period of time while driving, they are often susceptible to potential health problems. According to the FMCSA, truck drivers struggle with obesity at twice the rate (69%) of the average American (31%). This is likely a result of the available food options near highways, which normally consists of fast food restaurants, and limited time for exercise during the day. Maintaining a healthy lifestyle can be a real challenge on the road. Here are a few tips to consider for better health.
Avoid soda and fast food.
It can be difficult to avoid fast food restaurants. They are often the most prevalent (and perhaps most convenient) option along routes. And sometimes, depending on the route, they might be the only option. The problem is that fast food offers limited nutritional value. As convenient as it might be, try to avoid consuming fast food and soda whenever possible. A healthier option would be to pack your own lunch and drink water instead. If you're unable to bring your own food, then consider ordering to go from restaurants that have healthier options on the menu. Opt for vegetables or salad instead of fries, as unappealing as that may seem, because your food choices impact your health.
Avoid energy drinks.
An energy drink might seem like a good idea when you're feeling sluggish. However, energy drinks contain very high amounts of sugar and caffeine. Consuming these drinks frequently isn't great for your body in the long term. Studies have shown that drinking energy drinks on a regular basis can increase the risk of type 2 diabetes, gout and cardiovascular disease. Consider other beverages that can still provide a boost like coffee or green tea. Try to drink these in moderation as well.
Choose healthy snacks.
Sometimes you're on the road and need a quick snack to hold you over until lunch or dinner. Instead of grabbing a bag of chips, consider a healthier alternative. Fruit, yogurt and trail mix are all great options. Snacks like yogurt and nuts are high in protein which can keep you full for a longer period of time than empty calories.
Don't skip meals, plan them.
When you're in a hurry, it might not seem like a big deal to skip a meal. You'll snack or make it up with a larger meal later, but this often leads to an unhealthy diet. Planning ahead is a better option. If you're able to make your meals ahead of time, you control the menu. Simple meals that include rice, vegetables and some protein are good staples of a healthy diet. If you have a portable refrigerator in your truck, you can easily store meals for when you're on the road. If not, perhaps a cooler would work, depending on the meal. By planning your meals, you can avoid fast food chains and eat healthier instead.
Exercise when you can.
One of the most important ways to stay healthy is to exercise. This can be a challenge, depending on your schedule, but even a little bit of exercise can be helpful. If you like going to the gym, consider a membership that offers access to multiple locations in different states, like Planet Fitness and 24-Hour Fitness, for example. If you don't like going to the gym, bring your own exercise equipment with you. Get a yoga mat, jump rope, resistance bands or weights. Anything that appeals to you. You can exercise during breaks or after your shift, and any movement you can do helps offset hours behind the wheel.
Get some sleep.
Making sure you get enough sleep is crucial, especially for truck drivers that are responsible for driving on highways. Most doctors recommend at least 7 hours of sleep each night. Drowsiness can lead to accidents on the road which is exactly what truck drivers work so hard to avoid. In addition, studies show that sleep deprivation often leads to overconsumption of calories as people try to make up for their lack of energy during the day. Better sleep can result in a better appetite, and ultimately, a better diet.
Ultimately, your health will depend on a number of choices that you make. No one thing will guarantee the outcome, for better or worse, but we have to start somewhere. Treating your body right and being mindful of what you eat each day is the road to a healthier lifestyle.