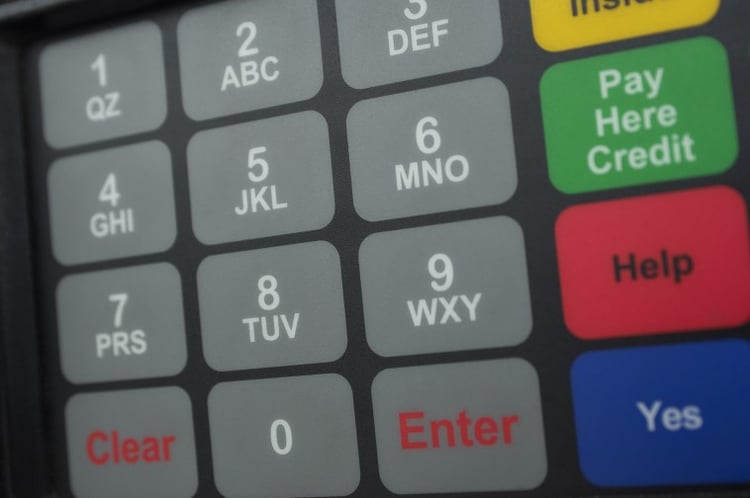 As scammers attempt new methods to steal card information, it is important for drivers to join forces with fleet managers to create a fraud prevention strategy. Though optimizing your card controls is the first step to securing your fleet, drivers have the opportunity to stop scammers in their tracks by remaining vigilant on the road. Here are some tips commercial drivers can use to reduce gas station credit card theft:
To make it simple for your drivers, we've created this easy to follow checklist which you can print out and attach to your vehicles:
How drivers can prevent gas station credit card theft.
Scrutinize the pump. Are all of the seals in tact? Does the card reader feel secure when wiggled?
Never write down your PIN number and don't use birthdays
Store the vendor helpline in your phone and call with questions
Pick fueling stations that are well-lit and have security cameras


Scrutinize the gas pump.
One of the most sophisticated methods of fraud uses a credit card skimmer placed where the card is inserted in a pump, cash register, or ATM machine. Card skimming has become a growing problem, with over $2 billion in fraud annually. However, there are telltale signs that reveal when a card reader has been tampered with. When pulling in to refuel, complete the following checks:
Wiggle the card slot to see if it's lose
Check whether any security tape on the machine has been tampered with
Be wary of card openings that are much larger than they need to be
Confirm that the card reader at the next pump is the same size and shape as the one they're using
Use the pump closest to the store, as scammers prefer to tamper with out-of-sight machines
Lock down those PINs.
It can be difficult to keep your passwords straight, but writing secure information down carries a huge risk. Drivers should pick a PIN they can remember, and an effective fuel program will require drivers to change that PIN periodically. When they're selecting their new pin, urge them to pick something other than their birthday. If a driver loses their wallet, their Driver's License will give that info away to anyone who finds it, and the month and day combination will be one of the numbers a thief tries first!
Know the ins and outs of your fraud coverage policies
Each fuel card company has a different approach to handling fraud, so read through your terms and conditions to ensure you are following your Terms & Conditions. Additionally, ask your drivers to keep your vendor's helpline stored in their phones so they can quickly make contact in case of a lost or stolen card. It's essential to notify your cardholder of a missing card quickly so they can lock down your accounts and issue new cards to get your drivers back on the road.
No lights, no cameras, no action
For driver safety, as well as the security of your program, drivers should pick fueling stations that are well-lit and monitor the pumps with security cameras. These two measures prevent skimmers from tampering with the pumps after hours, which reduces the risk of fraud.
As scammers develop new strategies to defraud companies, P-Fleet is dedicated to minimizing the risks for our clients. By creating a vigilant partnership between fleet managers and their drivers, companies can avoid the headache of fraud.
Read how to reduce driver turnover and its impact on your fleet.