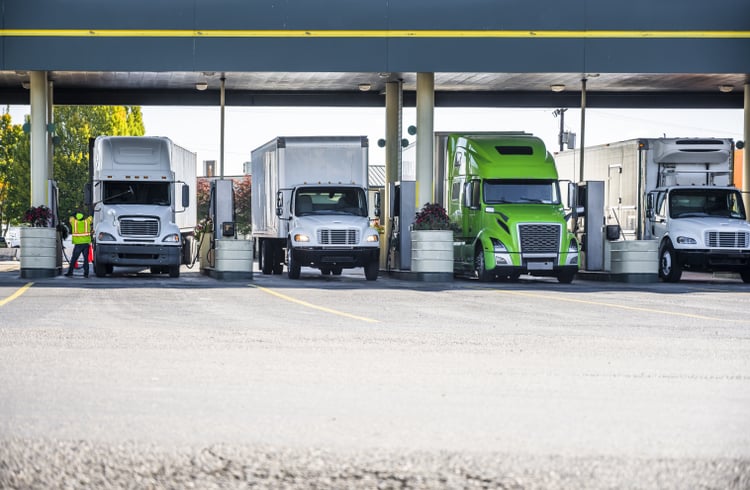 The CFN Network is one of the largest commercial fuel programs in the United States, providing access to discount fuel sites along the West Coast. Though it saves companies money by offering cost-plus or retail-minus pricing at its sites, the program can be problematic for companies that operate outside of the western states. To fix this, the company created its CFN Fleetwide card, which provides the best of both worlds. Customers who opt into the Fleetwide program gain access to both CFN sites and over 57,000 gas stations and truck stops across the country. Here are the key items that differentiate the two programs:
To accommodate fleets that want to take advantage of cost-plus pricing while still using retail sites outside the West Coast, the CFN Fleetwide fuel program provides access to an additional 57,000 sites across the country. These gas stations and truck stops include major brands like Pilot, Love's, Chevron, Texaco, Circle K, Fuelman, Speedway, Cenex, Sinclair, Kum & Go, Kwik Trip, MAPCO, Murphy USA, Sheetz, Thorntons, and more, ensuring that you can refuel anywhere in the United States.
How does the pricing differ between CFN and Fleetwide sites?
While the CFN fuel card can be priced at cost-plus at CFN sites, the pricing at gas stations and truck stops owned by other brands is based on the pump price. You will receive the same pricing at retail sites and truck stops as any other customer. We recommend fueling at cost-plus sites whenever possible to take full advantage of the discount prices, and only using Fleetwide sites when there are no cost-plus sites nearby.
Data capture at CFN and Fleetwide sites
Since CFN is specifically designed for businesses, they have added an optional "miscellaneous entry" prompt to track purchases. Companies often use this for unit #, driver #, job numbers, and more. Some companies opt not to input a number here, but it simplifies the workload for your accounting team when used correctly.
At Fleetwide sites, the card is processed through the retail gas station system which doesn't allow for an additional prompt. This means that companies using the extra prompt will be missing this data for retail and truck stop purchases.
Product controls
At CFN sites, you have access to industry-leading purchase controls. The most widely used of these is the ability to lock out products that your company would not use. For example, if your trucks only run on diesel, you can set all of your fuel cards to "diesel only." This eliminates the chance of employee misuse. However, the retail and truck stop sites in the CFN Fleetwide network do not have this capability, since most use multi-product dispensers which when authorized give drivers access to all products. We still recommend keeping product controls on your card, but you should pay more attention to purchases at retail sites and truck stops since they don't have these useful product controls.
How do I find CFN Fleetwide sites?
The simplest way to find all affiliated sites is the CFN app, which is available for both iPhone and Android. Using this app, you can locate the sites nearest you and filter by fuel type, or by amenities like truck parking, scales, laundry, and highway access. To search only for sites that offer discount pricing, select the "CFN Cardlock" and "CFNnet" options. This will only display sites that use cost-plus pricing model. We recommend looking at these sites first so you can take full advantage of discount pricing in your area. However, if there are no sites along your route, you can select other retail brands in order to see gas stations and truck stops near you.
Conclusion
To give companies more flexibility in where they fuel, the CFN Fleetwide program provides access to over 57,000 retail sites and truck stops across the country, in addition to the 3,000 CFN sites that offer cost-plus pricing. By taking advantage of this blended program, you can enjoy an ideal balance of savings and convenience.