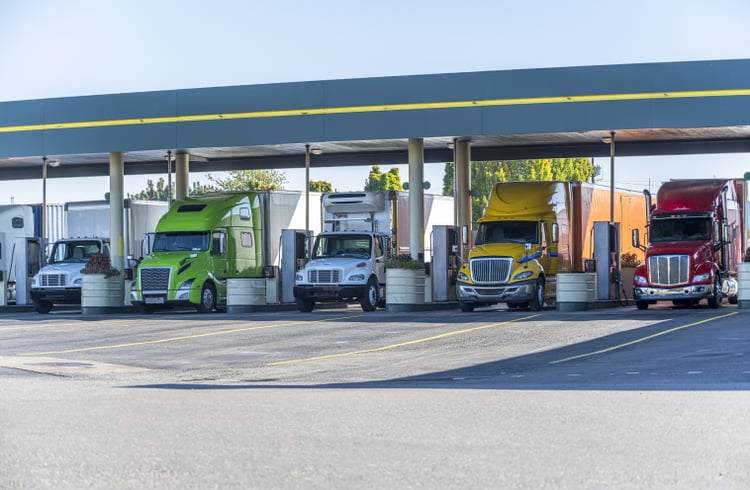 The CFN Network is a group of companies that own cardlocks (commercial fuel sites) and issue the proprietary CFN fuel card. In addition to cardlocks, there are many gas stations and truck stops that accept the CFN card. This program is an ideal fit for commercial fleets operating on the West Coast, as there is an abundance of locations in California, Oregon, Washington, Arizona, Idaho, and Nevada. Here are some commonly asked questions to help you determine whether the program is right for your company:
How does the CFN Network reduce fuel costs for customers?
The CFN Network provides cost-plus pricing for customers. And although market conditions can impact the base cost, customers often realize a lower price than retail minus cards with prices that can vary widely depending on the gas station or truck stop brand. When your CFN company has a lower cost, that savings is passed onto you.
How much money can customers save using CFN?
It is difficult to provide an exact number, as it depends on your location and your average monthly fuel spend. You can use our online pricing tool to see the current prices at CFN locations and compare them to the average gas prices in your area. Or, contact our team and they can provide you a pricing analysis that details your potential savings.
Are there other benefits?
In addition to discounts, card holders also get access to industry-leading controls that help manage your program. You can set up specific controls for each card individually or create rules for your entire fleet. Limit purchases by gallons per transaction, day, week, or month, disallow specific fuel types, and restrict spending to the hours and days that your business operates. By setting these specific limits, you can ensure drivers are following your fueling policy and prevent misuse.
With your program, you will also receive access to an online account to track your purchases, generate reports, and add, update or cancel cards. These tools minimize the workload for both your fleet and accounting teams.
CFN cardlock fuel sites are designed for commercial vehicles in industrial areas or with easy access off major highways so that your drivers can refuel quickly and get on their way.
Are there other ways to save money?
For those operating in industries that receive exemptions like buses, agriculture, and municipalities, card issuers can automatically apply these to your purchase. For industries that use off-road equipment or have a separate tank for refrigeration, you can purchase off-road or dyed diesel, which withholds the state taxes normally used to maintain roads. Alternatively, you can setup tracking that will easily identify fuel used in off-road and simplify filing of your off-road refund. These off-road reports are extremely popular within the trucking, construction, garbage disposal, and tank transport industries.
How do the CFN providers make money?
There is no membership fee to belong to the CFN, but card issuers earn a cents per gallon margin on the fuel that you purchase. The margin varies by card issuer and usually results in a lower price than cards that are based on pump price at the retail gas station. Some companies (but not all) may also charge fees, so do your research and read your Terms and Conditions thoroughly before picking a vendor.
How do I join the CFN Network?
If you are interested in joining the network, the first step is to research the different companies that issue the card and find the best fit. You can reach out to P-Fleet's team with any questions you may have, or to request a breakdown of the sites and average costs in your area.
Learn about the CFN fuel card application process→
Conclusion
The CFN Network is a popular option for companies operating on the West Coast, as it provides access to convenient locations and discount pricing. These features can help your company save time and money, in addition to simplifying your program management, reporting and tax filing.