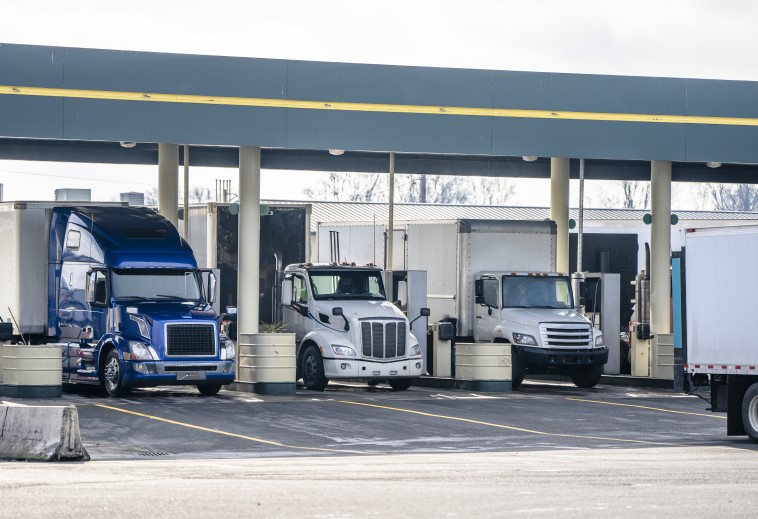 Drivers need a convenient and efficient way to fuel, but many gas stations are either too small or too crowded for larger vehicles. And sometimes, there aren't enough truck stops nearby for local and regional fleets to use those as an alternative. Plus, there is always fuel pricing to consider and whether or not you're getting the best deal over the long run. That's why many companies choose to use commercial fuel stations. They offer a number of advantages: convenient locations, wholesale prices, various products and site amenities designed for commercial vehicles and heavy equipment. These stations also enable greater control over driver purchases and fleet fueling. Let's explore the top benefits.
1. Convenient Locations
Commercial locations offer features and amenities that make fueling faster and more convenient. These stations have larger fuel islands, making it easier for drivers to enter and exit. Commercial sites also provide satellite pumps, allowing drivers to conveniently refuel vehicles with dual gas tanks. Many dispensers are high-speed to accelerate fueling for vehicles with a large tank capacity. Commercial locations are normally not open to the general public. This means they're often less crowded than retail gas stations so that drivers don't have to wait as long at fuel pumps. Commercial gas stations are typically located near major highways, making it easy for drivers to find somewhere to fuel along their routes, and in western states, commercial sites outnumber truck stops for even more convenience.
2. Various Fuel Products
Because commercial stations are designed for commercial vehicles, they include various fuel products that fleets might need that aren't always available at local gas stations. Unleaded and diesel are available because most fleets require those products, but DEF is also available at many sites for trucks that are required to use it. Biodiesel is another option at select locations. And for those fleets that include off-road equipment, cardholders have the option to purchase dyed diesel. Unlike clear diesel, dyed diesel doesn't include excise taxes because it is intended for off-road use in equipment, not vehicles. If you have off-road equipment, using dyed diesel instead of clear diesel is a way to reduce costs.
3. Wholesale Pricing
An important advantage that comes with commercial fuel is wholesale pricing. In general, wholesale pricing offers customers greater long-term savings than retail pricing offered at most gas stations. Rather than choosing amongst retail brands that can vary greatly in price from one brand to the next, commercial sites offer a pricing model that follows the daily wholesale market, as reported by Oil Price Information Service (OPIS). OPIS reports the cost of fuel in cities and states across the U.S. based on current market conditions for the day. Fuel at commercial sites is then sold at cost-plus pricing, normally with a fixed margin, which allows customers to realize long-term savings compared to retail gas stations where margins can change significantly. If your fleet uses a fuel card program to access commercial locations, then some vendors post fuel prices online for customers to view before making a purchase.
4. Purchase Controls
One of the most helpful benefits of commercial fuel stations is that they are normally included as part of a fuel card program. With a card program, companies gain control of driver fueling because fleet managers can implement various purchase controls. To begin with, fuel cards can be restricted to fuel purchases, unlike a credit card. This is useful if drivers only need the ability to purchase fuel. Managers can also limit the gallons per transaction to match vehicle tank capacity. In addition, fleet managers can set limits on which fuel products can be purchased to prevent employee misuse; product controls are an important aspect of commercial sites. Managers can also set restrictions so that drivers can only make purchases during business hours. In effect, a card program that includes access to commercial locations enables managers to control what, when and how much drivers can purchase.
5. Driver Monitoring
In addition to the purchase controls available to managers, fueling at a commercial station allows for greater driver monitoring. At the time of fueling, drivers are asked to enter the vehicle odometer reading. This allows managers to track miles per gallon (MPG) and cost per mile (CPM). When reviewing invoices and reports, managers can use MPG or CPM to identify potential vehicle problems or employee misuse. And as part of a fuel card program, management teams normally have online access to transactions, invoices and reports so they can monitor driver activity at any time. Transaction alerts can also be sent by email for specific cards if certain drivers are suspected of misuse, giving management more oversight of company fueling.
Conclusion
Commercial fuel stations offer a number of benefits for business owners and drivers. Locations are built for large trucks and include site amenities that enable faster refueling so that drivers can get back on the road quickly. Various fuel products are available at stations to accommodate the needs of mixed fleets, including those with off-road equipment. Fuel products are priced according to the wholesale market which offers customers long-term savings. And fueling at these locations is normally part of a fuel card program that offers purchase controls and driver monitoring tools, another way to keep fuel expenses in check. With these combined benefits, companies can realize greater efficiency and savings with commercial fuel.