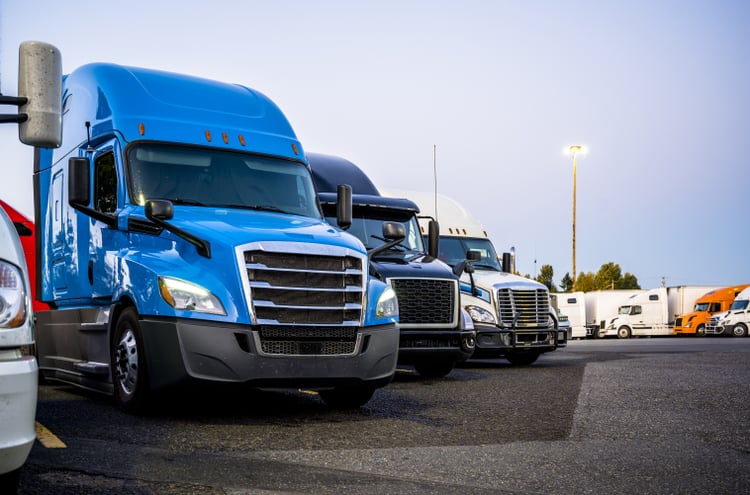 Owner-operators and independent truckers have many factors to consider when determining the best trucking fuel card for their business, so we have outlined the pros and cons of each to help guide this important decision. The key points to keep in mind are the where your business operates, possible discounts, and credit needs. Once you determine your priorities within these factors, it will be easier to decide which option is best for your business. If your trucking business operates locally, our fuel card overview may provide better information.
The best fuel cards for truckers have the best locations.
By and large the most significant factor to consider when searching for a card is the routes that you run. If you are a regional truck driver that only covers a few states, you may be able to opt for a cardlock network which provides discounts and locations designed for large vehicles, like the CFN card. However, if you operate across the country, you need a card that offers access to gas stations across the country, like an Over-The-Road or Universal fuel card. Over-The-Road cards are designed specifically for long distance truckers, so they provide access to truck stops along major highways. However, there are few sites provided in more urban areas, which may inconvenience drivers who make deliveries outside major freeways. On the other hand, Universal fuel cards are designed for a variety of fleets and include major brands like Shell, BP, Pilot, TA, and Love's. Though you have more sites to choose from, they are not specifically designed with trucks or large vehicles in mind.
The balance of discounts and fees
While discounts tend to be the first item that comes to mind when researching cards, it's important to consider the complete package offered by each provider. Often, providers charge fuel card fees that can cost you more than the discounts, so read through your Terms and Conditions completely before signing up for a program.
How the best trucking fuel cards help with credit
For many owner-operators and independent truckers, cash flow is a major concern. Revenue can be irregular and spread out, leaving you scrambling for cash to cover expenses in the meantime. The best trucking fuel cards help to alleviate this by providing another line of credit, but the amount you're approved for can vary significantly by provider.
Universal trucking fuel cards
While not designed specifically for truckers, universal cards like the Voyager card provide access to over 320,000 fuel locations across the nation, including big name brands like Pilot, Mobil, BP, Chevron, and Love's. Most providers also offer an app that can be used to look up fuel prices and find locations along your route, making it easy to refuel with minimal interruption to your journey.
Though many truckers use universal cards, it's important to note that they were designed for fleets of all sizes, so they include many smaller stations in urban areas. This can be extremely helpful in a pinch, but truck drivers will also face the challenge of maneuvering into tight spaces if they want to use certain gas stations.
In addition to extensive sites, you also receive access to optional maintenance, allowing you to quickly finance repairs and get back on the road. This can be a huge benefit for those that operate with limited cash flow, as it minimizes the delays of arranging payment. To further simplify your accounting efforts, Level III data is automatically captured for each transaction, making it easy to sort your purchases by state and file your IFTA Return.
Cardlock cards
There are a few programs that offer discounts at their branded sites, allowing drivers to purchase fuel based upon wholesale costs or OPIS. However, these networks typically have sites that are concentrated in one part of the country, making it less suitable for companies that operate nationwide. But for those who can make it work, a cardlock fuel program is an excellent way to cut costs and manage your fuel purchases.
The largest cardlock network is the Commercial Fueling Network (CFN) Card, which offers locations across the West Coast. With over 3,000 sites across Arizona, California, Idaho, Nevada, Oregon, Utah and Washington, cardholders enjoy wholesale prices at stations designed specifically for large trucks. These sites also offer industry-leading controls, including the option to lock out certain fuel types or limit each purchase to the gallons in your tank. The CFN card also collects Level III data, making it simple to file IFTA Taxes.
The obvious downsides to this option are the limited geographic area and the inability to cover maintenance. However, some companies opt to take advantage of both CFN pricing and the convenience of truck stops with options like the Fleetwide card. This allows you to receive discounted pricing at CFN locations and fuel at over 57,000 retail stations and truck stops. For those that are able to put a cardlock program to work for their team, the savings are worth it!
Over the road fuel cards
One of the best trucking fuel card options for truckers operating across the country is an over the road card, which provides access at over 6,000 truck stops across the continental United States, which are located along the major highways. Some providers also offer discount programs.
While these discounts are certainly enticing, it is essential to consider your priorities and find the right provider. Some providers charge fees, so you need to consider both fees and discounts when comparing prices.
Check fuel card reviews
Once you have chosen the best trucking fuel card, you need to select a vendor. The service and fees offered by each vary, so you should check online fuel card reviews to assist with the selection.
Conclusion
Though truck drivers have different issues to consider than the average fleet, they can evaluate their priorities to find the best trucking fuel card for their operations. Considering their location, possible discounts and fees, and their ability to secure credit will help them find the perfect fit.