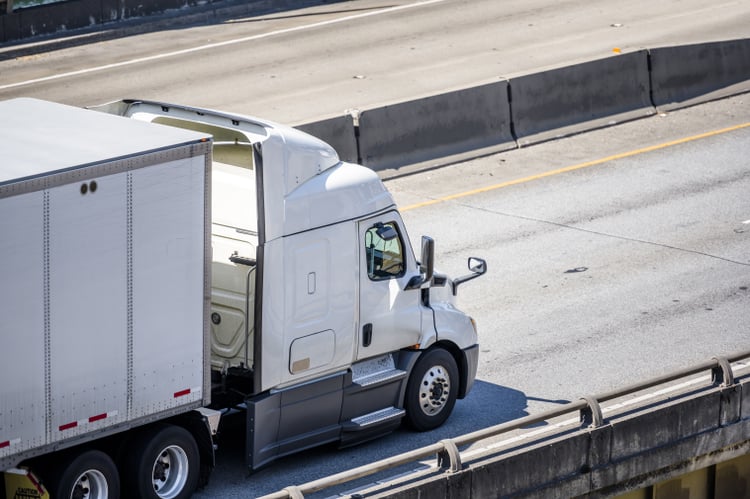 While the freight industry is expanding rapidly, 90 percent of trucking companies are small fleets of six trucks or fewer. Even for drivers with a single truck, it can be a better financial decision to start a trucking business than to join a larger fleet. This post outlines how to start a trucking business in the United States, from the initial filing to opportunities for growth.


1. Get your CDL.
Before you can start your trucking business, you will need to obtain your CDL. If you haven't already completed this step, review the requirements of your state's DMV and complete the proper training, classes, and tests.
2. Obtain truck and liability insurance.
Before you can register your new company, you will need proof of both trucking and liability insurance. The FMCSA has a list of full requirements on their website, and they will require your insurance company to submit forms to verify you have full coverage. To ensure that you're getting the best deal, shop around with different companies and see if they can offer you any specials based on your driving history or by bundling all your insurance policies.
3. File your trucking authority forms.
Once you have the items listed above, you can file paperwork for Trucking Authority, which will allow you to transport freight as a motor carrier. The requirements for how to start a trucking business are set by the Federal Motor Carrier Safety Administration, and new applicants must register through their Unified Registration System. In order to transport freight and goods, you must submit the OP-1 form and await approval, which takes about 20-25 business days.
Once you have your DOT Number and FMCSA approval, you can begin filing the other necessary forms to run your business. Here is a basic list of paperwork that will be required to start your company:
IRS Form 2290— This is the "Heavy Use Tax Form" sheet that all trucking company owners must fill out in compliance with IRS policies.
IRP Tag and IFTA Decal—Each state has a different policy for obtaining International Registration Plan Tags and International Fuel Tax Agreement Decals. Find out more about what your state requires.
LLC Status—You will have to register your trucking company as a Limited Liability Company.
BOC-3 Form— If you plan on working across state lines, you will need a BOC-3 form. This form establishes that you have legal representation within each state.
4. Buy or lease a truck.
Once you have your FMCSA approval, you can begin looking for vehicles. If you have the capital to jump into the trucking business feet-first, buying several trucks at once from a single dealer can result in a discounted price per vehicle.
If cash flow is an issue, you can look into leasing a truck or signing a lease-to-own agreement. However, you will want to thoroughly research and compare dealer options and offers before choosing the best deal. You can also opt to purchase used trucks, which can help reduce upfront costs, but be mindful of possible repair costs down the road. The best plan of action is to search for a gently used truck that is a few years old for a savings of $40,000 to $50,000 off the original price. While used trucks can be the best option, remember that truck repairs cost an average of $15,000 annually according to the ATRI, and used trucks can cost even more due to additional wear and tear and the scarcity of parts.
5. Research the best truck and trailer equipment.
Choosing the best equipment can have a tremendous impact on your trucking company's earning potential. Although freight rates fluctuate week-to-week, typically flatbed truck loads pay the highest rate on average. However, rural areas have a higher remand for reefer trucks and step deck trailers, so consider the best options for your region.
As you begin planning your trucking business, take a look at free load boards to get an idea of pricing and popular hauls in your region. Customize your truck load searches by deadhead location and the trailer equipment types you're considering. This can help you determine the best equipment to buy.
6. Start hauling loads and find steady customers.
Once you have started your trucking business, you should use online load boards to help find your first hauls. When you first start out, you can use free versions of these services, but you may eventually decide to upgrade to a paid subscription.
While online load boards are great to get started, it's essential to find steady customers who need repeat hauls. Let clients know that you are interested in continued partnerships and create custom business cards and a website to advertise your services. As you spend time in the industry, you'll develop more contacts who will reach out to you with regular work.
7. Apply for a trucking fuel card to support your business.
As you develop your trucking business, you may reach a point where cash flow becomes an issue. A trucking fuel card makes it easy to monitor your spending while creating a separate payment method only for fuel. You also gain additional benefits like easy IFTA tax filing, since your fuel card automatically totals your spending for each vehicle and state. Regardless of where you operate, there is a fuel card that fits your needs. For example, the Voyager fuel card is accepted at 95% of retail sites in the United States, including major truck stops and retail brands like Pilot, Love's, TA, BP, Shell, Mobil, and more.
8. Expand your fleet and hire new drivers.
Once you have your trucking business up and running, you can start researching ways to expand. Hiring new drivers allows you to increase your loads per month and service a larger client list, but you should also ensure your finances are in order and that you have savings on the side before you begin bringing on employees.
When you are finally ready to expand your trucking business, you have two options: You can either subcontract other drivers, or hire full-time employees. There are pros and cons to each option, so weigh the decision carefully. If you subcontract, it saves you a great deal of money on insurance and equipment, but you also gain less of the profits. Hiring full-time employees means you have to cover more of the costs, but you also get more of the profits from each load.
Conclusion
If you're considering how to start a trucking business, the key to success is to thoroughly consider your options and create a business plan. Once you have all these pieces in place, you can start gaining loyal customers and even expand by hiring additional drivers.
Read trucking company marketing ideas to build your business →