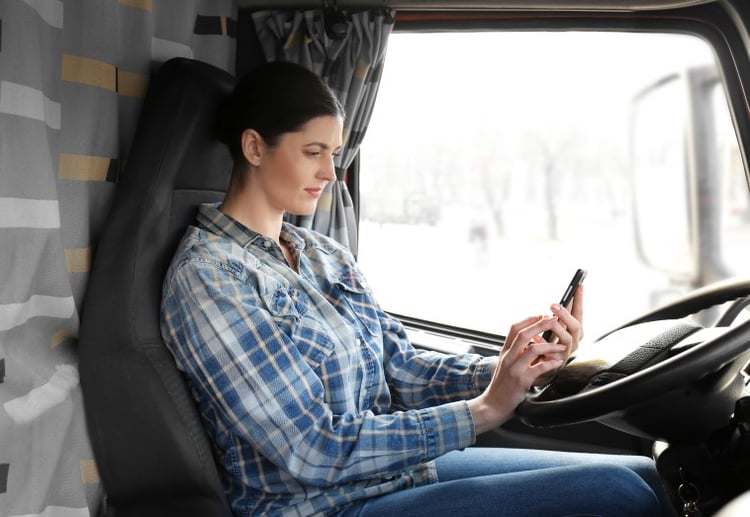 Whether you're just starting out—or just trying to increase your business—load boards are an essential place to find new clients and get your business trucking. We've compiled a list of the best load boards for truckers, both paid and free, along with some tips on how to make the most of them.
How to use load boards like a pro.
Load boards can look intimidating when you first start, but you'll quickly get the hang of using them. The most important thing to filter for when you first start searching is the cities themselves. By focusing on your city of departure and scheduling out a round-trip, you can maximize your efforts and make sure you are being paid for every leg of your journey. You can also schedule triangular routes to make even more money. For example, if you live in St. Louis and schedule a load to Dallas, you might not be able to find a direct haul home. But you can schedule another leg from Dallas to Denver, and then from Denver back to St. Louis. This strategy will help you get paid for every mile you're on the road, so take the time to learn to use these best load boards like a pro!
Best free load boards for truckers
While the free options usually offer smaller hauls, they are a great way to ramp up your business. If you need a quick return load or a one-time gig, these can be excellent tools!
Freight Finder – A basic, free load board that opportunities from across the U.S., as well as Canadian provinces. They include free mileage and routing information that is useful to find jobs along your scheduled route!
Trucker Path – Trucker Path's Truckloads app can be used on desktop or mobile and allows you to search through over 150,000 available daily loads. You can also check a broker's credit score, save your favorite searches, and stay informed with push notifications on your smartphone.
Load Up – Though you have to create an account, there are no hidden fees or surprises with this app. Truckers can search for full loads, free postings, directory listings, and receive email alerts about upcoming hauls.
TRULOS Transportation – Free board that gives you multiple options to find the right job. Search for partial truckloads, truck loads with rates, or jobs by state, city, and zip code. You can also sort by your truck type and radius, making it an extremely easy tool to use.
Free Freight Search – The world's largest free load board, this system comes with a bunch of benefits that are unusual for a free service, including a support hotline and email alerts.
Fr8Connect – Connects shippers directly with carriers to bypass brokers. They offer a free membership so you can try out their features before considering a paid subscription.
TruckingPlanet – This was previously FreightBlaster. While this is a basic load board, it can be helpful to pick up last-minute loads. Be aware that they don't delete expired loads quickly, so it's essential to check the dates!
LandStar Carriers – This board includes different search features that can be extremely useful. Search by origin or destination and filter by limits, trailer information, load types, and special certifications like Hazmat, CSA, and Team loads.
Loadmatch – This basic load board allows you to search by origin city, state or province, date, and equipment type.
DSSLN – This board is a bit difficult to use at the moment, but they are promising a website revamp that will include additional tools, so you may want to bookmark it out for future reference.
Best load boards with free trials
If you successfully drum up your business using load boards, you may decide to switch to a paid option. The following are the best load boards that include free trials so you can see if they improve your business. We've included info on the free trials for each below:
Direct Freight – Direct freight offers a 15 day trial to explore their additional features, including full credit reports and credit scores of the job posters, as well as the days to pay for each haul. They also include expanded search features and turn-by-turn specific routing.
123 Loadboard – There are three different monthly plans that you can enjoy with 123 Loadboard, and each includes a 10-day free trial so you can decide what features you need.
Load Solutions – Load Solutions offers access to three different boards with their membership. A basic membership costs $14.95 per month, but they offer a 7 day free trial so you can see if the service works for your business.
Comfreight — Offers freight matching for $19 per month, including a free 15-day trial. Membership includes the usual services, plus a beta version of their truck load rate index tool.
Best load boards for truckers with a subscription
If you find that the free load boards have worked for your business and want to find additional opportunities, you may opt for a paid membership. Paid boards tend to include more re-occurring and scheduled jobs, and the competition between truckers is lower. It may be worthwhile to try a paid board for a month or two and see if the additional cost is worth it. Here are the best load boards for truckers that require a paid membership:
DAT – With over 235 million loads posted every year, this is one of the largest load boards. With subscriptions starting at $34.95 per month, you gain access to a mobile app, accurate payment info, and the ability to search by offer rates.
Truckers Edge – Starting at $34.95 per month, a subscription to Truckers Edge includes unlimited truck posts and load searches, along with the ability to save searches and set alerts for new loads that match your preferences. They also have a pro feature that includes automatic triangle haul routing suggestions and a North American database that includes Canadian hauls.
TruckStop.com – The basic membership is $39 per month and provides access to over 500,000 loads. Their search feature lets truckers filter based on a number of criteria (credit history, days-to-pay, etc.) to help you find ideal clients.
Brokers and shippers with their own load boards
While some companies utilize the free and paid boards listed above, others are large enough to warrant their own website. These freight brokers and direct shippers are worth checking regularly for new loads, especially if you have a gap in your schedule:
Jones Transport

Miller Trucking
Best load boards for niche hauling
If you want to diversify your clientele, find a niche, or just pick up some extra cash, miscellaneous freight can be an excellent next step. For every possible subgenre of hauling, there's a load board to match. While you can tailor your preferences down the road, here are some misc. load hauling boards to get you started:
Livestock Network – This board focuses primarily on cows and hogs, but other livestock can be listed as well. They also have a forum, for sale board, and other helpful resources for those getting into the business.
RanchWorldAds – While this site focuses primarily on selling horses and cattle, they have a subcategory for load hauling. These will typically be smaller jobs, like moving a horse or a few cattle across state lines, but it's worthwhile to monitor the board.
Livestock Haulers Hub – This hub connects breeders, producers, feeders, veterinarians, and fairs/shows to independent truckers who can carry them across the country.
Next steps to build your trucking business
While using these best load boards is a great first step, you need to start building up dedicated clients and repeat runs to be successful. After a successful delivery, thank the client for the opportunity and let them know you're interested in continued work. This is the first step to marketing your trucking business and building a dedicated clientele!
Conclusion
Load boards are essential to new truckers, and they can help you build your career. We recommend starting with the free services, then moving to paid memberships as you ramp up your business. If you have any edits or additions to this list of the best load boards for truckers, please reach out to us at marketing@pfleet.com with your input.