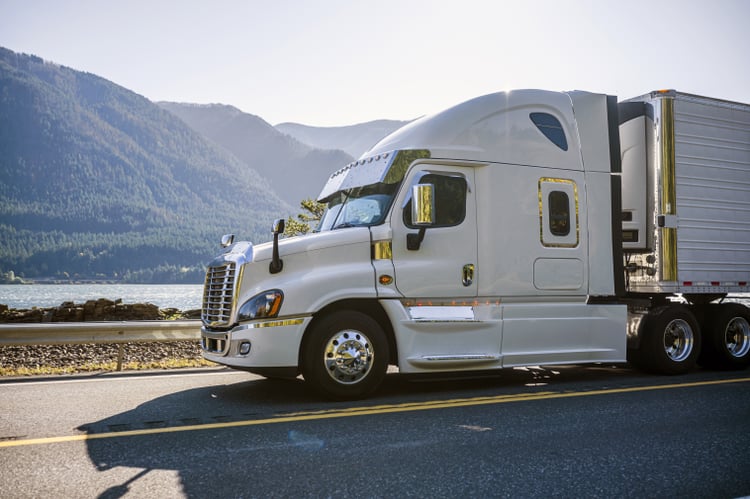 After you get your business up and running by finding clients on load boards, it's essential to start drumming up some repeat business. The best way to make a stable income as a trucker is to find dedicated clients who will repeatedly use your services. These ideas will help you understand the basics of how to market a trucking company so you can start growing your business!


Create social media profiles for your trucking business.
The first step to creating any business is making it easy for customers to find you, and social media is a great starting point. Create accounts with your company name, location, and a description of the areas you provide services to. While it's a good idea to be on all platforms, LinkedIn and Facebook are the two biggest players in the transport industry, so be sure to use those.
When building your profiles, make sure your information is correct. Customers will want to know your address, your website, and your phone number. If you have multiple social media profiles, ensure that your information is consistent across all of them.
In addition to creating your profiles, be sure to keep them active. Try to post at least twice a month so new users can see that you are still using your profiles. These updates don't have to be significant—even sharing relevant articles or pictures will make it clear that you use the account frequently. Since social media is free and creates a permanent record of your business, it's an essential part of how to market a trucking company.
Ask for online reviews.
One of the best trucking company marketing tools is creating a fan base. Any time you deliver great customer service, ask customers to write a review for your business on Yelp, Google Reviews or Facebook. Online reviews create trust and authority for your business, and allow new contacts to see what they can expect when hiring you. The more reviews you have, the more confident new clients are in your abilities.
Encourage referrals and offer incentives.
Another excellent way to build your business is to ask clients for referrals. This will happen naturally when you deliver excellent service, but you should encourage it by offering incentives.
Whether it's a discount on their next load, a Starbucks gift card, or a cute gift you pick up on the road, you should thank your customers for their referrals. This will encourage them to keep you in mind the next time a friend, coworker, or family member needs transport services.
Customize Your Marketing by Region and Load
One of the most challenging aspects of how to market a trucking company is reaching the right people. For truckers, there are two basic criteria that you have to look for in potential clients: Where are they located, and what loads do they send out?
A great way to cut out the fluff is to be very specific as to what clients you're looking for. List out what states you typically operate in, and make it clear what type of truck and equipment you provide. If you have time, search LinkedIn to find companies that meet these criteria and send them a polite and short email offering your services. Include a link to your website and a quick overview of what you offer and how to contact you. This opens the door for future interactions if they need transport services down the line!
A website is essential to market your trucking company.
Once you have your social media profiles up and running, you should create a basic website. An online presence is essential for the modern business, and it helps build trust with potential clients. Fortunately, it doesn't take much skill to create a basic site. There are services like Wix and WordPress that take the stress out of creating a site.
Just create an account with one of these services and buy a domain. The domain doesn't have to be anything fancy, but it should spell out exactly what you do. For example, if your name is Tom, you could use Tomstransportandtrucking.com. These website services will then provide you with easy-to-use templates so you can show off your business.
Add basic information about you, your company, what services you provide, and your current contact information. Once your site is up and running, add the URL to your social media profiles and share it with the world! You should also add it to any business cards or marketing materials that you create in the future.
Attend trade association events and conferences.
As you determine what jobs you like best, begin joining Trade Associations and groups that specialize in that industry. Whether you're looking into over-the-road, agricultural hauling, livestock, or other industries, joining relevant groups will help you find new clients.
When you attend events, be sure to bring business cards and fliers that highlight your specialties, preferred routes, and contact information. Trade shows and conferences are an excellent opportunity to meet new people, learn more about the industry, and find new leads!
Email newsletters throughout the year.
As you meet new people, keep a list of their contact information, especially email. Even if people don't need your services immediately, you want to remind them periodically that you are happy to help! An easy way to keep them updated about your business is to create an email newsletter. This is free to do, and you can easily create a template using HubSpot, Mailchimp, or another email service provider.
Include photos from your recent journeys, glowing reviews from your customers, and perhaps even a discount on a product or service. Email newsletters are a key part of how to market a trucking company, and they are completely free to create and send!
Be excited about your business.
Ultimately, people want to work with those who are chipper and enthusiastic about their business. If you aren't excited about your work, why should your customers be? Be friendly throughout all forms of your communication, including text and email. If you employ additional drivers, treat them well so that they'll be happy working for you, and this will show in interactions with your clients. If your employees and customers see your enthusiasm for the job, they are more likely to continue their business relationship with you.
Conclusion
As you begin growing your business, marketing will become an essential part of your work. Though you should still focus on running your routes and delivering excellent customer service, hopefully these trucking company marketing ideas will help your business succeed.