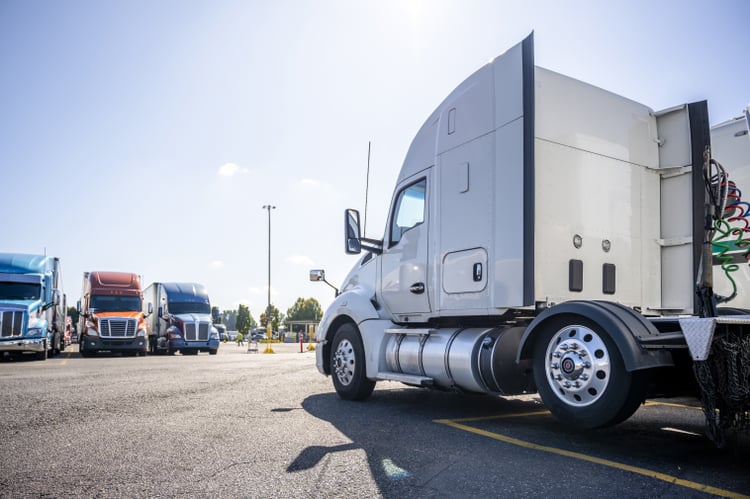 While some small companies can survive just using cash or a business credit card for their fueling needs, those in the trucking and freight industry have different needs to consider when choosing how to purchase fuel. The blend of purchase controls, additional credit, simplified tax filing, and savings makes a fuel card for truckers a worthwhile investment. Read a guide to all the different types of fuel cards.
The benefits of a fuel card for truckers
Save at the pump.
Reduce the stress of IFTA filing.
Simplify off-road refund filing for refrigerated fleets.
Simplify income tax filing.
Control spend with industry-leading purchase restrictions.
Access free mobile apps for pricing and navigation.
Improve your cash flow and build credit.
Save at the pump.
The most important feature you should consider when researching a fuel card for truckers is the potential savings that come with each product. There are three major product types in the industry, all of which can help reduce fuel expenses and provide additional support for your business. Ultimately, the best fit for your business will depend largely on your location and routes. The most popular product is a "universal card," as it provides access to almost all locations including brand name sites like Pilot, Love's, TA, Shell, Chevron, Exxon Mobil, and more. The ability to choose from most locations minimizes the time it takes to refuel and allows you to search for the lowest fuel prices in your area.
Another major card type is a cardlock network, which provides access to wholesale pricing at specific sites. The two major cardlock networks in the United States are the Commercial Fueling Network (CFN) and Pacific Pride. Both provide sites specifically designed for larger commercial vehicles with easy access, high-speed pumps and 24-hour availability. For drivers that operate in a region with plenty of locations, a cardlock network provides the perfect blend of savings and convenience.
Finally, an Over The Road (OTR) fuel card for truckers provides access to truck stops across the United States that are designed with long-haul truckers in mind. These sites are centrally located near major highways and include amenities for drivers including showers, truck parking, restaurants, and laundry. While this program may offer discounts, drivers need to evaluate fees before signing up, and these cards tend to have smaller credit limits and shorter terms than other programs. You should consider the total cost of each program when examining your options and research other drivers' experience with each provider to find the ideal option.
Reduce the work associated with IFTA filing.
For drivers that conduct business across multiple states, IFTA filing is a time-consuming requirement, as you must report how much you've spent on fuel in each state and the number of miles driven on state roads. However, a fuel card for truckers can minimize the work with reports that summarize fuel purchases by vehicle and by state. With these reports, it's easy to fill in the vehicle fuel usage by state on your IFTA reports. If you're manually tracking your purchases, saving receipts, and tallying up your spending in each state, a card program is essential to reducing your workload each quarter.
Simplify off-road refund filing for refrigerated fleets.
If your vehicle has a refrigerated unit, you can take advantage of off-road tax refunds. States apply additional taxes to each gallon of fuel to help maintain their roads and infrastructure, but the fuel used to run a refrigerated unit is exempt. Using a card program, you can enter a different code at the pump to automatically categorize off-road fuel. At the end of each filing period, you can generate a report to file for a tax refund for the fuel used in your separate tank. If you don't have a separate tank on your vehicle, you still have the ability to apply a percentage to your overall fuel consumption to calculate your total off-road tax refund. The exact calculations will depend on amount of fuel your truck engine burns compared to your refrigerated unit, but your card provider can help determine the correct formula.
Simplify income tax filing.
One of the largest challenges in running your own business is the task of organizing your income and expenses for tax reporting. However, a fuel card for truckers simplifies this process by sectioning out your fuel transactions so it's easy to submit and verify as a business expense. You can easily run a report at the end of the tax period that summarizes your fuel use for the year and helps verify the miles you've spent on the road.
Control spend industry-leading purchase restrictions.
As your company expands, a fuel card for truckers gives you second-to-none purchase controls that allow you to control driver spending and reduce misuse. You can enact spending limits per day, week, or month to manage your spending with minimal stress, allowing you to easily add additional drivers. You can also set your cards to "fuel only," ensuring that employees can't use the cards to purchase non-fuel items. These controls allow you to keep a bird's eye view of your fuel purchasing and streamline management as you expand your business.
Access free mobile apps for pricing and navigation.
For drivers with changing routes, it's essential to have access to Mobile Apps that provide real-time pricing and turn-by-turn navigation to find nearby fuel stations. This technology will also include the ability to sort by amenities, certain fuel types, and the ability to accommodate oversized vehicles. These mobile apps will help drivers refuel quickly and get back on the road, saving time and money.
Improve your cash flow and build credit.
For drivers that are just starting out, one of the primary challenges is managing your cash flow. Shippers can take 15-45 days to pay and many of your expenses are paid in advance, causing cash flow issues. A fuel card for truckers can help minimize the cash flow challenge by adding another line of credit to help fund your expenses. You will also build credit for on-time payments along the way which helps to both establish your business and expand it in the future.
Conclusion
A common misconception is that a card program is only worthwhile for larger fleets. However, even a one-truck operation can benefit from the convenience, security, and savings of a card. It can help improve your cash flow, provide online access to your transactions, invoices, and reports, and help with IFTA filing. Truckers can benefit tremendously from a fuel card by optimizing your business, saving time, and reducing stress.