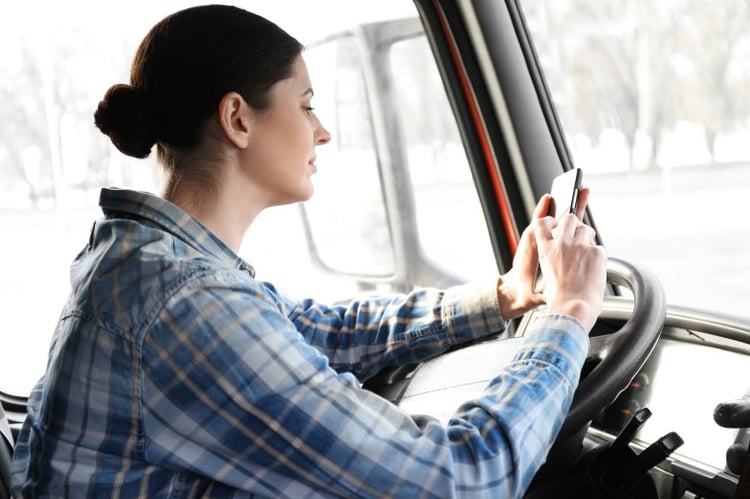 Living on the road has always been a challenge, but trucking apps make it easier than ever to plan your routes, stay connected, find new jobs, and even entertain yourself throughout your journey. For long-distance drivers, these mobile apps are essential to manage the day-to-day routine and plan for the future. We've broken this list down into categories so you can easily find solutions for the problems you encounter on the road!
Navigation and fuel planning trucking apps
Trucker Path
The most popular app for truckers, Trucker Path helps you look up truck stops, rest areas, weigh stations, and fuel locations with truck clearance. You can also plan your route based upon these stops, allowing you to find the best amenities without going out of your way.
Truck Parking USA
The trucking community comes together in this app to report how many available parking spaces are at each truck stop or rest area. Crowdsourcing this information ensures that you don't go out of your way only to arrive at a full parking lot. You can also filter by amenities to ensure you're finding the perfect location for your immediate needs.
GasBuddy
Even saving a few cents per gallon can make a huge difference in your fuel budget, so apps like GasBuddy are essential to have on your phone. This free app crowdsources up-to-date, local gas prices for stations across the United States, allowing you to find the cheapest prices in your are.
If you have a CFN Fuel Card, you have access to a huge network of locations that offer wholesale pricing and are designed specifically for commercial vehicles. The free CFN Fleetwide app displays the nearest CFN locations and connects to your phone's GPS to give you turn-by-turn directions. It also allows you to narrow your search results based on amenities like fuel type, pay at pump, showers, truck parking, and scales so you can find the perfect site for your needs.
One of the biggest benefits of having a universal fuel card is the ability to choose the lowest cost pricing in your area. Using the Voyager Mobile App, you're able to find the lowest pricing at over 320,000 locations that accept the Voyager Card. You can compare prices in your area, filter for amenities, and get turn-by-turn directions through your GPS. As an added bonus for truckers, the app provides a trip planning function that allows you to plot your stops ahead of time based on your fuel type and how far from your route you are willing to navigate for fuel savings. From there, the app will create a route that allows you to take advantage of the best fuel prices along the way.
Fuelman Mobile Locator
If you have a Fuelman card, this app will help guide you to the nearest stations, log your hours on a digital timecard, and find coworkers nearby using an interactive map feature to make it easier to connect while on the road. You can also get special deals on gas, food, and drinks using special promotions in the app.
WEX Connect
Wex fuel card users can use this app to find the lowest prices in their area and navigate to those stations. The prices are updated in real-time so you always know how much you will spend per gallon on fuel.
AccuWeather
As you plan your routes, knowing what weather to expect is essential. Though regional climates can be unpredictable, AccuWeather uses radar technology to predict the weather 15 days out. You can also set alerts for changes in specific areas so you are always prepared for what the weather throws your way!
TruckMap-Truck GPS Routes
This GPS app was designed with truck drivers in mind, allowing you to completely customize your route based on truck weight, low clearance, and HAZMAT restrictions. You can also use the app to avoid toll roads and find amenities like parking, showers, and restaurants along your route.
Jobs and load board trucking apps
Direct Freight Driver
This app lets you search through more than 300,000 loads that are added daily from reputable brokers and shippers within the Direct Freight network. You need an existing membership with Direct Freight to use the app, but your login allows you to sort through new loads and modify your searches based on location, weight, destination, and more.
Find Truck Loads - Load Board
This trucking app by the developers at 123 LoadBoard allows you to search through millions of loads throughout the United States and Canada to find your next job. You can filter your loads by city or state to maximize your efficiency, find backhaul loads from your current location, or search for loads to get you back to your home base. You can also save loads and searches for future use to help you keep a continuous stream of contracts throughout the year.
DAT load board for truckers
This free app for DAT subscribers allows you to search through more than 225,000 truckloads posted every day on the DAT network and filter results by location or offer rate. You can also see previous reviews and credit scores to ensure you're working with established brokers.
Truckstop mobile
Run by the developers of Truckstop.com, this mobile app allows you to advertise your services and choose from the over 500,000 new loads posted daily. You can save favorites, set your preferences, and sort results by rate, weight, length, deadhead, and more to find the perfect fit for your next run.
Entertainment Apps
Libby by Overdrive
Listening to audiobooks is one of the best ways to pass time on the road, but costs can pile up if you're purchasing a few books every month. The Libby App by Overdrive is an excellent resource for truck drivers, as it allows you to check out audiobooks and eBooks directly from your existing library. With your local library card, you can check out up to 20 items and keep 15 additional items on hold. The only downside to this app is that there are only a certain number of e-copies that can be checked out at one time, so you may have to sit on a waitlist for a bit before you can download the books that you want. However, if you plan ahead, you can have free entertainment for the entire duration of your journey!
Roadside America
If you want to see the weird and wacky things small towns have to offer, the Roadside America app is the perfect find. It allows you to look up unconventional attractions along your route, including tiny museums and historic sites that often go overlooked. Whether you want to visit the world's largest ball of twine or stop by Edgar Allan Poe's house in Philadelphia, this app is perfect for tiny adventures truck drivers can squeeze into their tight schedules. This is one of the few paid apps on this list, but at $3.99, it's worth the splurge!
Overcast
While both Android and iPhone come with default podcast apps, the interfaces leave a lot to be desired. The award-winning Overcast app eliminates many of these issues by allowing you to create custom playlists with smart filters and priorities, so you can customize your listening experience for long stretches on the road. Do you want to listen to horror podcasts during the day and comedies by night? Do you need to download full episodes to get you through rural areas where data is hard to come by? Do you want to speed up or slow down the speaking speed of each podcast depending on your energy level? If you answered "yes" to any of these questions, try the Overcast app! The basic version is free, and you can upgrade if you'd like to skip commercials.
Take your pick of music apps.
In creating this list, we researched about a dozen popular music apps that would be ideal for truck drivers. We recommend trying a few to determine which one works best for you! The most famous are Spotify, YouTube Music, IHeartRadio, Apple Music, Pandora, and Google Play. Whichever you chose, it will provide thousands of popular artists so you can craft the perfect soundtrack for your journey! We recommend hitting like and dislike buttons as you start listening so the app can get an idea of your preferences, and you can also create customized playlists for different moods.
Communication apps
Bottled
This unique messaging app allows you to send a message to a random person somewhere in the world, allowing you to meet people who would otherwise have never crossed your path. As many of the users are from the opposite side of the globe, it is especially helpful for those who drive overnight and miss having friendly conversations with people in real-time.
Voice recorder
This app is extremely simple but immeasurably useful. It acts just like a tape recorder, allowing you to record long conversations or monologues as you drive, then email your recordings to friends and family. You can try many different long-term projects using this app, like sending a recap of your travels to loved ones or even recording an audiobook in your own voice for your children during your downtime. The possibilities are endless!
WhatsApp
If you need to talk on the phone without running up your minutes, Whatsapp is the perfect solution! It allows you to call, message, or video chat with your family and friends without paying for additional minutes through your phone plan. However, data charges may still apply, so confirm that it's the right fit for your phone plan!
Lifestyle apps
KeyRing
If you travel across the country, it becomes difficult to keep track of all the local rewards cards you need to save money in each region. Keyring allows you to upload the barcodes and numbers for rewards cards, library cards, and loyalty cards so you can get discounts across the country. You can also keep up with circulars, coupons, and other deals in each region to save you money on the go.
Calm
After a stressful day, this app is a breath of fresh air! The app provides relaxing stories and soundscapes to help you unwind and get to sleep, and they are constantly adding new content so you'll always have something new to listen to.
MyFitnessPal
It can be difficult to monitor your calorie intake on the go, but MyFitnessPal makes it easy. You can search for meals or separate ingredients to count your calories, and even scan the barcodes on your favorite items from the grocery store to automatically import your nutrients for the day. Whether you're looking to lose weight, eat more protein, or limit your sugar intake, MyFitnessPal is a perfect way to track all of your macros while on the road.
Business apps
Truck Logics
This Trucking Management software allows you to monitor the real-time status of your fleet, while also keeping accurate records of expenses on the road. Though it requires a subscription to TruckLogics Software to use, it is an excellent way to coordinate your fleet, log service hours, enter or import settlements, and generate reports.
BigRoad trucking logbook
This trucking app is essential for tracking your drivetime and hours of service, as it allows you to quickly prove compliance via printouts or a digital reading. You can also receive alerts of possible violations to make sure you are always in compliance of US FMCSA, DOT, and Canadian HOS Rules. You can also create vehicle inspection reports (DVIR/PTI) and send both logs and supporting documents via email.
CamScanner
If you find yourself losing receipts or important documents, CamScanner is an excellent way to save these items as PDFs on your phone. You can store high-quality scans as backups and email or text them to supervisors, partners, or regulatory agencies.
QuickBooks accounting
This app is essential for independent contractors, as it allows you to manage expenses and check your account balances all in the palm of your hand! You can also create customized invoices using your contact information and logo to quickly request payment from your customers, and the app syncs with over 80 partner apps to keep all your information organized. The app includes a free trial so you can try it out before committing to a membership.
XERO accounting and invoices
This app is similar to QuickBooks, but has a more intuitive interface that is easy to pick up if you've never used an accounting software. Like QuickBooks, it syncs with your personal and business accounts to give you a financial overview and help manage your expenses. You can also create and send invoices and opt in for transaction alerts according to your needs. Their services are $29.99 per month, but it can help your run your business from anywhere in the world.
Conclusion
As you journey across the country, these trucking apps will help keep your organized and entertained. If you have any additional favorites to add to the list, please email marketing@pfleet.com to help out your fellow truckers!