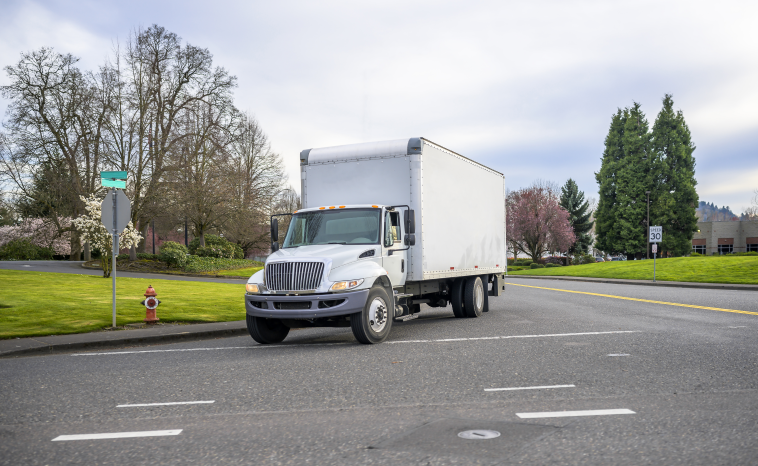 If you're looking for a career that gives you flexibility, keeps you on the go, and offers higher earning potential, then starting a box truck business could be a great fit for you. This type of business is growing in popularity because of its low overhead costs and entrepreneurial opportunity. Driving a box truck is a great way to get started in the trucking industry and doesn't require a lot of startup capital. And if you already own a truck, then you have a head start. By following the steps below, you can have your business up and running in no time.
1. Establish your company.
First, you'll need to choose a name for your company and obtain a business license so that you can operate. To get a business license, start by researching the specific requirements for where you live, where your business is based and what you sell. Checking with your local SBA office is a great place to begin the process since rules and regulations can differ by state and county. Before you begin any paperwork, brainstorm company names that reflect your box truck delivery business. The name you choose will be a key part of your brand identity. Ideally, the name is simple, unique and professional. Once the name is chosen, creating a logo for your business is also a good idea. You can outsource this to a graphic designer or create one yourself using online resources like Canva.
2. Create a website.
With any box truck business plan, creating a website is a crucial step. While there are many tools and resources out there that can help you create a professional-looking website quickly, remember to balance aesthetics and the customer experience. Determine what content to include, use images that engage your audience and choose the right platform so that your website reaches potential customers and grows your business. With the right planning and research, you can build an effective online presence that helps you stand out from the crowd and achieve your business goals.
3. Complete your trucking documents.
File a BOC-3 form:

If you operate as a trucking company, you must designate an FMCSA agent who resides in all states where you do business. Once designated, the agent is authorized to receive and forward court or legal documents on behalf of your company.

Apply for a Motor Carrier number: Typically, you will need to provide basic documentation such as proof of identity, bank statements and liability insurance information to the FMCSA in order to receive an MC number. As part of your motor carrier authority application, you to pay an application fee of $300.
Complete Unified Carrier Registration (UCR): If you plan to operate across state lines, you'll lastly need to register for the UCR program. UCR is federally mandated and requires commercial vehicles traveling interstate to be registered within the system. Drivers that carry cargo across state lines must renew their UCR every year by December 31st.
Obtain a commercial driver's license: Box truck owners aren't necessarily required to obtain a commercial driver's license, as long as the vehicle has a gross vehicle weight rating (GVWR) of 26,000 pounds or less. This is beneficial for first-time business owners that plan to drive the truck themselves or will hire drivers and can evaluate a wider pool of candidates as a result. If the GVWR is above 26,000 pounds, however, you will need to obtain a CDL or hire drivers that have a CDL.
4. Get trucking insurance.
One of the most important steps for setting up your business is to sign up for trucking insurance. There are a few things to consider when choosing trucking insurance, including the type and amount of coverage you need in addition to collision insurance. Liability insurance will cover damage caused by your trucks to other property while collision insurance covers damage to your own trucks. You might also consider insurance that includes medical coverage in case of an accident resulting in a driver injury. For box truck owner-operators that use reefers, selecting insurance that covers equipment repair is also something to consider. Comparing coverage and rates of different insurance providers will help you find the best policy for your needs.
5. Organize your business expenses.
When starting a box truck company, you might want to consider opening a business bank account to help with record-keeping and accounting. It's also important to separate your business expenses from your personal expenses to show that your box truck company is a business entity. To begin, you'll need to decide on the right type of business bank account for your needs. Make sure to stay on top of annual or recurring fees, and have all the necessary documentation needed when opening up a business account.

A fuel card program is another beneficial tool that can make managing business expenses easier. With a fuel card, you can access thousands of gas stations, truck stops and commercial fueling sites nationwide. A fuel card can also provide discounts, depending on the card. Cards usually offer controls to manage employee spend, along with reporting tools to track fueling activity, which is especially important for those in the trucking industry when gallons and usage need to be reported to various government agencies.
6. Buy the right equipment.
Depending on what kind of services you plan to offer, you'll need to determine the right size of truck, large enough for the cargo you plan to carry. Consider whether you will also need a reefer unit if cargo needs to be kept refrigerated. If you have a smaller budget for your business, then you might want to consider buying a used truck which can cost between $10,000 to $20,000 in some parts of the country. The alternative is buying a new truck. While more costly, there might be fewer maintenance issues than with a used truck, which is an important factor to consider before making a purchase.
7. Build a customer base.
If you've tackled the previous steps, then there's really only one thing left to do: get customers. There are a few different ways to do this. One way is to knock on doors. If you know where your potential customers do business, engage with them in person, especially if they are business owners too. Another option is marketing your services online by utilizing your website and social media. Try to stand out from the competition with creative marketing messages. You could also pursue short- and long-term contracts with larger delivery companies as an independent contractor. Regardless of the option you choose, focus on providing a high level of customer service so that you can generate referrals to develop your customer base.
Conclusion
Starting a box truck business can be a great way to earn a living and enable you to be your own boss. Startup costs are relatively low, compared to other business ventures, but the earning potential could be quite high, depending on the customers you serve and how quickly you're able to grow your business. If owning a box truck appeals to you, do your research, follow the steps above and make it happen to gain the independence and flexibility you deserve.