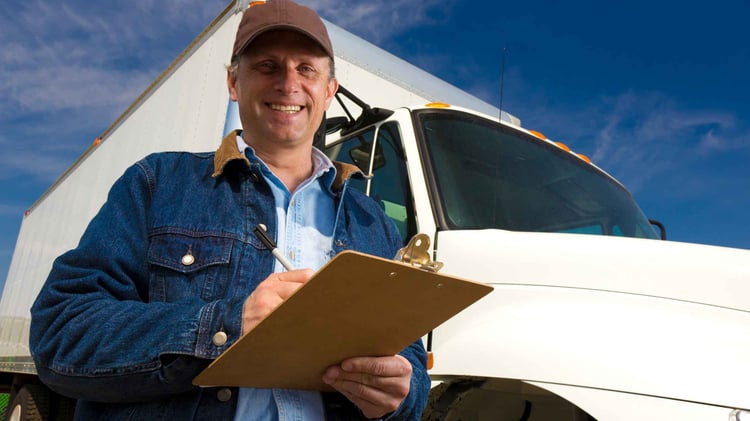 If you operate a commercial truck for a living, then it's important to have a pre trip inspection checklist and to carry out an inspection before hitting the road. Doing an inspection will ensure your vehicle is in safe working condition. Not only is this important to prevent any vehicle issues, but it's also required by law to conduct regular pre trip inspections. According to the FMCSA, drivers must inspect their vehicles thoroughly and be satisfied that they are safe to operate. Drivers must also repair any maintenance issues that were noted by previous drivers. Before getting started with any hauls, create a checklist that follows the recommendations below.
Service Brakes
Your truck's service brakes should be at the top of an inspection checklist. Ensuring that your service brakes are in good working condition will prevent accidents. In order to inspect your truck's brakes, move your vehicle forward no less than 5 mph after releasing your emergency brake. Press on your brakes firmly while taking note of any delayed stopping or unusual responsiveness in your vehicle's brake system. If your brakes are lagging or if your vehicle seems to be pulling at either side, then it's time to get your brake pads replaced.
Parking Brake
Making sure that your parking brake is functional is another top priority. The parking brake can be an emergency backup in the case of a failing brake system and helps to keep your vehicle from moving when parked. According to the California Department of Motor Vehicles, drivers can test their parking brakes by holding the brake on while shifting into a low gear. If your parking brake moves while this happens, then you have a faulty parking brake and need to have it replaced as soon as possible. While testing your parking brake, make sure you're in a safe area without other drivers nearby to prevent accidents.
Wheels and Rims
Before hitting the road, it's important to inspect your wheels and rims to prevent any air leaks, steering wheel shakiness or blowouts. You can visually check your rims and wheels for any corrosion build-up, cracks, loose bolts or any other signs that might suggest damaged wheels. During an inspection, you should also take note of any dirt build-up or rusting that is visible on your wheels and rims. Rust can indicate corrosion while dirt can reduce your vehicle's performance. Neglecting heavy amounts of dirt and rust can lead to other problems and costly repairs in the future.
Tire Pressure
While some trucks have tire pressure warnings on the dashboards, other vehicles might not notify drivers when the tire pressure is too low or high. Before checking the tire pressure, make sure to check your truck's manual for the recommended PSI. You'll also want to invest in a reliable and good-quality tire pressure gauge. Once you've pressed your tire pressure gauge into the valve and received the PSI results, you'll need to adjust the tire pressure accordingly. Tire pressure can change by 1 PSI every time the air temperature changes by 10 degrees, so it's important to pay close attention if you travel to areas with significant weather changes.
Steering System
Another item to add to a truck pre trip inspection list is steering. You can inspect your steering system by turning the wheel side-to-side and making sure that the wheel has adequate "play." The play in your system allows your steering wheel to move around slightly without steering your vehicle. If you have a non-power steering wheel, then your wheel should not exceed two inches on a twenty-inch wheel with your truck turned off. If your vehicle has a power steering wheel, then follow the same steps while your vehicle is running. You should also check your steering fluid levels and refill the fluid, if necessary, to the refill mark.
Coupling Devices
If not properly attached, a loose coupling device can cause your trailer to detach from your vehicle while on the road, which is why it's important to add this to your pre trip checklist. While inspecting your coupling device, you'll want to ensure that all bolts are screwed tightly, there is no leaking lubricant, cracks are not present and there is no excessive wear and tear. Make sure to examine every component of the coupling device and mounting to ensure maximum security.
Windshield Wipers
The most effective way to check if your windshield wipers are in good condition is to see how they clean your windshield. If you notice any significant streaks or noises, then this is likely a sign that windshield wipers are worn out or damaged. It's best to replace your windshield wipers every 6 to 12 months, but environmental factors might cause you to replace them sooner. If your vehicle is often exposed to harsh sunlight, then your windshield wipers can quickly deteriorate and require replacement.
Side and Rear Mirrors
Inspecting your side and rear mirrors should also be part of a checklist. Check to make sure that your mirrors are not discolored, cracked or loose. Some vehicles might have auto-dimming on their mirrors when sunlight hits them to prevent blinding drivers. If your vehicle's auto-dimming starts to malfunction, then make sure to get it fixed before undertaking your next trip.
Lights and Reflectors
While doing an inspection, drivers should make sure that every headlight, turn signal, brake light and safety reflector is functioning properly. You might need someone to stand in front and behind the vehicle to notify you if any lights need to be replaced. If you're hauling a trailer, then make sure to check any brake lights and reflectors on the trailer as well. Any broken or dim lights should be replaced as soon as possible to avoid traffic accidents or fines.
Horn
Make sure to always test your horn while going through a truck pre trip inspection list. Having a functional horn ensures better safety by allowing you to communicate with other drivers on the road. When getting inside your semi-truck, push on the middle of your steering wheel to make sure the sound is working. According to the FMCSA, having a functional horn is required by law for every vehicle on the road.
Emergency Equipment
Finally, make sure that your emergency equipment is easily accessible inside your truck. According to the FMCSA, each commercial motor vehicle requires a fire extinguisher, a spare fuse and warning devices for stopped vehicles. Add these mandatory emergency items to your checklist to ensure that you're following FMCSA regulations. You can view the full list of required regulations and exceptions here.
Be prepared for your own inspection.
The FMCSA requires trucking companies to "systematically inspect, repair and maintain all motor vehicles subject to its control." Therefore, regularly checking your vehicle before driving is critical. Remember that a roadside inspection by highway patrol can occur for anyone operating a commercial vehicle. Going through a pre trip inspection checklist beforehand is a good idea with this in mind. Lastly, make any necessary repairs to your vehicle as soon as possible, and keep on hand a current log of completed maintenance in addition to your pre trip inspection form.