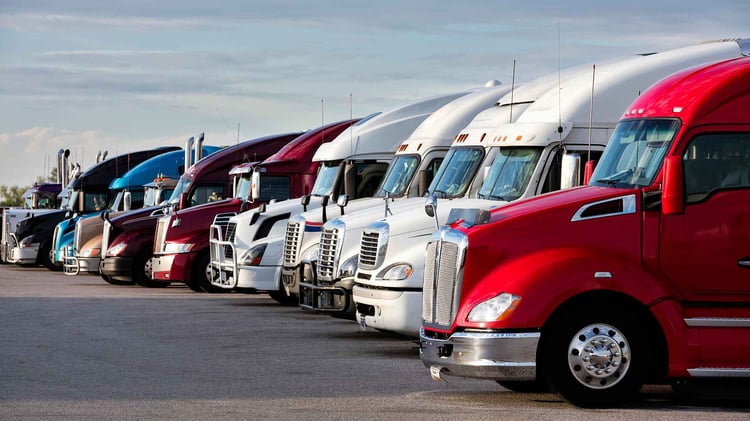 Semi trucks are notorious for having below average fuel economy. With the average semi truck MPG being around 7 miles, fuel expenses can be significant for fleets that cover long distances. Fleet managers and owner-operators are often looking for ways to minimize those expenses -- either by reducing consumption or looking for a truck with the best fuel economy. An improvement of just 1 MPG increases fuel efficiency by 14%, for example, which is why the truck that you drive and how you drive it can make a big difference in fuel spending. Below are some tips for how to improve gas mileage on a truck
How to Increase MPG on Trucks
Decrease vehicle weight.
Opting for a semi truck that features lighter aluminum or composite frames and lightweight cargo beds and doors are a few ways to decrease vehicle weight. Any extra parts or components can also be downsized or converted from steel to lighter alloys such as titanium. By reducing vehicle weight, drivers can stretch mileage and get the most out of their fuel.
Avoid using the A/C.
Using the air conditioner can add up over long distances because it reduces fuel efficiency. When drivers turn on the AC, the engine has to work harder and will require more fuel to keep running at its optimal performance. Try to use the AC sparingly to avoid unnecessary fuel consumption and a hit to your wallet.
Maintain proper tire pressure.
To ensure proper tire pressure, drivers should check and refill their tires before they start a route. The right pressure can be found in the owner's manual or on a placard located on the driver's side doorframe. Underinflated tires can cause premature wear and tear, leading to costly replacements; overinflated tires reduce traction when cornering and stopping, leading to potentially dangerous situations on the roadway.
Steer clear of traffic.
Save yourself time, money and headaches by steering clear of traffic whenever possible. Fuel consumption increases significantly when idling in stop-and-go traffic instead of actually driving. Plan ahead and try to find a route that might be less frequently travelled so that you can save fuel and arrive at your destination as soon as possible.
Avoid speeding.
Driving at the speed limit will minimize wear and tear on vehicles and can help prevent earlier than expected maintenance repairs. Exceeding 50 MPH can lower fuel economy because of greater tire rolling and air resistance. When you drive faster, more fuel gets burned in a shorter period of time. Staying at the speed limit can improve gas mileage and ensure a safer driving experience while on the road.
Trucks With the Best Fuel Economy
Freightliner Cascadia Natural Gas
Freightliner is one of the most popular truck manufacturers for commercial fleets. Their trucks have optional configurations to improve gas mileage by adding aluminum wheels and wide-base single-drive tires. Their most fuel-efficient model, the Freightliner Cascadia Natural Gas, can get over 10 MPG, making it an ideal option for fleets that prioritize fuel efficiency. The model is specifically designed to deliver zero carbon emissions by relying on natural gas while offering advanced aerodynamic features. However, keep in mind that not all gas stations and truck stops offer natural gas, so be sure to research those options before making a truck purchase.
Peterbilt 579
Peterbilt 579 is another semi truck model that offers advanced aerodynamic features meant to improve fuel efficiency. The Peterbilt 579 has newly upgraded bumper and hood aerodynamics to reduce air resistance on the road. Other features like tandem fairings, sculpted mirror heads and arms, wheel covers and wheel well closeouts can be added for even more aerodynamic efficiency. This model is also equipped with a PACCAR MX engine to help reduce fuel consumption, emissions and noise levels. The Peterbilt 579 gets gas mileage just below 10 MPG.
Kenworth T680 Advantage
Another option that's available is the Kenworth T680 Advantage which gets around 9 MPG. This model offers innovative engine features which provide high-operating performance, improved durability and better fuel efficiency for drivers. The power engine design provides an automatic start/stop feature that minimizes idle time on the road. The T680 Advantage also has battery monitoring features, an easily controllable LCD display and long-lasting vehicle components. All these features combined can help save on fuel costs and minimize maintenance, making it a worthwhile option to consider.
Mack Anthem
Another great option for drivers is the Mack Anthem. Mack aims to provide reliable, durable and fuel efficient semi trucks. The Anthem has many innovative features including command steering, an improved aerodynamic design and a tilt-assisted hood to make maintenance and driving easier. This model of semi truck can get 8 to 10 MPG, making it one of the most fuel-efficient options for truckers.
Conclusion
If you're a truck driver looking to get the most bang for your buck, then fuel efficiency should be top of mind. Average semi truck MPG is much lower than most vehicles -- around 7 MPG -- so finding ways to stretch that can make a big difference with your company's bottom line. Luckily, there are things drivers can do before and during routes to help increase mileage. There are simple steps, like maintaining proper tire pressure and avoiding traffic to minimize idling, and more involved decisions about the type of truck to purchase, how to optimize it (for aerodynamics and weight) and how often to schedule maintenance. All play a part in maximizing fuel efficiency and can lead to significant cost savings down the line.