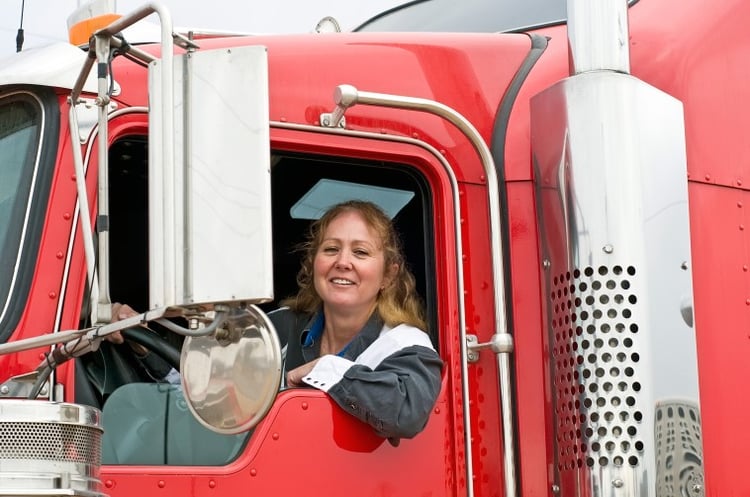 A career as a truck driver can be rewarding, but it also comes with challenges. Driving for up to 10 hours at a time can be difficult, especially if you drive alone. It's easy to become bored or even a bit stir-crazy which is why it's important for drivers to keep themselves entertained and engaged when behind the wheel. This can help avoid drowsiness and even loneliness. Thanks to modern technology there are many ways for drivers to stay entertained during long driving shifts. Let's take a look at some ideas.
Podcasts, audiobooks or music
With smartphones, you have almost unlimited choices of podcasts, audiobooks or music to listen to while driving. Apps like Spotify and Apple Music provide access to thousands of profiles from creators around the world. Whether you enjoy listening to classical jazz, true crime mysteries or audio book series, streaming services have nearly endless options available. Here are a few examples of podcasts that many truck drivers enjoy listening to while on the road:
The Trucking Podcast: This podcast offers listeners news, stories and everything truck-related.
Truck N' Hustle: Truck N' Hustle provides listeners with advice, stories of success, and the niche culture of the trucking industry. If you're an entrepreneur and wish to seek out tips on the trucking business, then this podcast can be educational, insightful and entertaining.
Trucking After Hours: A father and son in the trucking industry talk about trucking, business, finding freight, negotiating with brokers, pickups, cars and life outside of the truck.
Serial: Serial is a political and true-crime podcast that discusses the stories behind ongoing and past investigations. The podcast host, Sarah Koenig, dives deep into the timelines, testimonies and court documents to bring listeners on a riveting story in each season. This podcast is a great option for truckers who enjoy storytelling and politics.
Trucking for Millennials: In this unique podcast, Trucking for Millennials discusses how current and newer generations can affect the impacts of the trucking industry.
Learn a new language.
If you ever wanted to learn a new language but didn't have time for it, long drives are a perfect way to get started. You can develop your language skills by downloading apps like Duolingo or Babbel. They provide structured lesson plans for learning a foreign language. All you have to do is connect your phone to your truck's Bluetooth speaker and follow the courses. Many language apps will have you do audio exercises to learn pronunciations, conjugations and common phrases, all from the comfort of your truck.
Listen to local radio stations.
If you're interested in learning more about the different cities and towns that you're traveling through, then try tuning in to local radio stations. You might hear some good music, and if you're a sports fan, the local sports radio station will give you perspective and commentary on the teams in town. Plus, you can learn about upcoming events and activities if you expect to have some downtime while passing through.
Explore new towns.
If you're on a break or expect to stay overnight, then explore the surrounding area. It's a great way to pass the time and be adventurous. Check out local restaurants. Visit roadside attractions. Shop for souvenirs. These can be fun ways to remember each destination. Even if you're only in town for a short amount of time, exploring different towns can help broaden your horizons and fill up the long hours on the road.
Bring a pet for company.
Depending on your company's policy, you might consider bringing a pet along for the ride. Having a furry friend for company during long trips can be helpful to avoid loneliness. Some studies have also shown that drivers are more likely to engage in safer driving and exercise more regularly when they bring their pets. There are no FMCSA regulations that prohibit pets on the road, but you should check with your trucking company to understand their expectations, especially if they own the truck.
Check-in on friends and family.
Many drivers take the time they have on routes to catch up with friends and family. This is one of the best ways to overcome any loneliness that might occur on long hauls with minimal social interaction. Keeping friends and family up-to-date can help you feel connected with those important in your life. Plus, having someone to talk to at the end of a route may be just want you need for some moral support.
Self-reflection
Some drivers might miss having someone to talk to while driving. Others might prefer the solitude. If you're the latter, truck driving affords ample time for self-reflection. This time may be used to consider your career, relationships, life goals or even what the next step of your journey should be. There's nothing like being on the open road to give you perspective on your life. This is what makes truck driving unique compared to many other jobs, and it's another way drivers can stay engaged when behind the wheel.
No matter which option you choose, there are plenty of ways to keep yourself entertained while on the road. So make sure to explore all the possibilities and find something that works for you! Happy trucking!