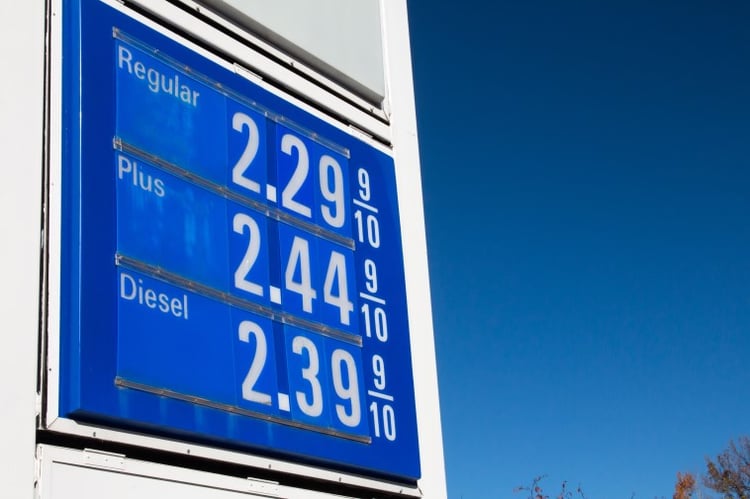 As your company deliberates which program is the right fit for your fleet, take the time to find the right balance of savings and convenience. Though various programs may offer discounts at specific sites, you could be losing money if your drivers have to make a longer journey every time they need to fill up. Using a Voyager credit card gives you access to over 95% of all retail fuel sites in the United States, ensuring that your drivers don't waste time and money refueling.
Universal Fueling with the Voyager Credit Card
Though some gas stations offer discounts for filling up with their branded cards, being limited to a single retailer can force you to pay higher prices when there is a better option right across the street. The next time you pass by an intersection with multiple gas stations, take a look at the posted prices. It's not uncommon to see a 10 or 15-cent difference between gas stations on the same road, and you don't want to be limited to one location if it's the most expensive on the block.
The Voyager credit card eliminates this problem by providing access to over 320,000 fueling locations across the country, including the most popular brands. Your drivers will be able to choose from local sites like BP, Chevron, 76, Citgo, Conoco, Exxon, Circle K, Mobil, Pilot, TravelCenters of America, Texaco, and more. Drivers will be able to choose gas stations along their route, or go slightly out of their way if prices are drastically lower at another nearby site.
Time Is Money
When considering the possible discounts, be sure to include employee hours and added mileage in your calculations. Though it may not seem like a big deal to send your drivers an extra ten minutes away for fuel, the costs compound over time. After all, driving 10 minutes out of the way every day for an entire year adds up to over 40 hours annually!
To truly break down the cost of a longer commute, let's look at data from The American Transportation Research Institute (ATRI). Every year, they calculate the average cost per hour of operating a commercial vehicle, and their latest estimation adds up to $66.65 per hour.

Using this cost per hour, we can break down the total cost of your driver's extra 5-minute commute to a specific gas station.
Fuel Costs: $1.208
Truck/Trailer Lease or Purchase Payments: $0.86
Repair & Maintenance: $0.54
Truck Insurance Premiums: $0.24
Permits and Licenses: $0.07
Tires: $0.12
Driver Wages: $1.82
Driver Benefits: $0.56
Total Added Cost = $5.41
Driving an additional five minutes to the pump costs your company $5.41 right off the bat. If your average transaction is 100 gallons, you'd have to get a discount of more than 5 cents per gallon to offset the increased operational costs. Run your own calculations to explore whether the lure of a discount is costing you more in the long run.
Put Technology to Work with The Voyager Credit Card App.
As you plan your route, the Voyager app makes it easy to map out fueling locations and find the lowest prices in your area. Drivers can use their tablet or smart phone to research prices at retail sites, and they can also filter to find car washes, pay at the pump options, space for oversized vehicles, and maintenance service capabilities so you're not wasting fuel tracking down the amenities you need.
Do the Math.
To back up these observations with some data, we surveyed prices at major cities across the country. Looking at the highs and lows of retail pricing shows how vital it is for fleets to shop around for the best possible price. Using info from gasbuddy.com, P-Fleet compared the differences between prices across the United States on September 18th, 2019 to show how much you can save by keeping your options open.


| | | | |
| --- | --- | --- | --- |
| City | Average Fuel Price | Lowest Fuel Price | Difference Per Gallon |
| San Jose, CA | $3.62 | $3.13 | $0.49 |
| Boise, ID | $2.73 | $2.59 | $0.14 |
| Los Angeles, CA | $3.73 | $3.14 | $0.59 |
| Denver, CO | $2.55 | $2.24 | $0.31 |
| Houston, TX | $2.28 | $1.95 | $0.33 |
| Buffalo, NY | $2.70 | $2.15 | $0.55 |
The average difference in the fuel prices for the cities we looked at was a whopping 40 cents per gallon, highlighting how essential it is to keep your options open. This dramatic difference in gas prices is typical throughout the year, regardless of where your company operates. As P-Fleet tallied up our total retail data from 2018, we found an average 66-cent difference between the highest and lowest prices offered in each city on each day. This drives home the fact that having a broad selection and doing a little research can save your company money in the long run.
Conclusion
As your company deliberates which fuel card fits your needs, it is important to consider how much flexibility you are willing to trade for a discount. Though some gas station chains offer gas and diesel discounts with their cards, it can limit you to using their sites even when their prices are higher. Having the ability to choose the best station with a Voyager credit card gives you the flexibility to run a cost-effective fleet.

Learn more about Voyager fuel cards →