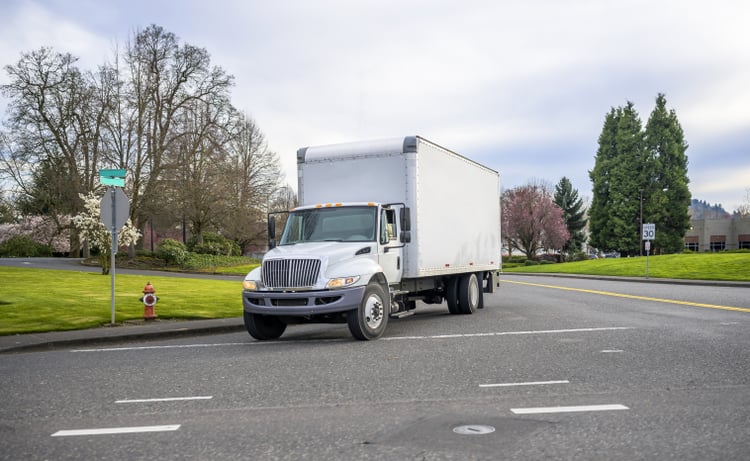 Whether your company has 3 vehicles or 300, it's essential to implement systems to monitor spending and simplify your accounting. A fleetcard provides support for your business through tracking and reporting, as well as allowing you to implement customized controls based on the needs of your business. The programs also simplify turnover for your employees and can provide an additional line of credit to improve cash flow, all of which help you to optimize and expand your business. Here are the different fleet cards that P-Fleet provides.
1. Monitor spending easily with your fleetcard program.
As your company hires new employees, it's essential to monitor the spending across all cards and quickly spot any increases in fuel spend. A fleetcard can track purchases between cards and vehicles and send you email alerts about suspicious transactions. You can also create simple spend reports which provide insight into your fuel purchases, so you can be easily spot unusual behavior.
While managing expenses are the primary reason to monitor your fleet spending, fleetcards come with MPG tracking which can help identify maintenance issues, erratic driving or potential theft. A decrease in vehicle MPG can be a sign to look at servicing the vehicle or checking the driver behavior.
2. Save time by reducing reimbursements.
As your company started out, you may have relied in a reimbursement program to fuel your fleet, asking drivers to submit receipts to be repaid. But as your company grows, it becomes too much work to juggle payments, collect receipts, and properly log each transaction. Working on a reimbursement-based program can also hurt your recruitment, as drivers are wary of going without pay and running into issues with their own personal cash flow. By removing reimbursements from the equation, you save time for everyone involved.
3. Customize controls based on your needs.
Every business is different, so it's important to implement controls that meet your needs. You can enact controls that limit when, where, and how your employees can refuel. As you set up your program, you can decide to disable spending on the weekends or after hours, only allow access to the sites nearest your office, and even set product controls and gallon limits. By setting up these restrictions, you can worry less about fueling your fleet and focus on growing your business.
4. A fleetcard can optimize cash flow with an additional line of credit.
Cash flow is one of the biggest challenges facing growing businesses, and a fleetcard program is an easy way to add a line of credit. By putting all those expenses on a separate card, you free up room on other lines of credit to purchase supplies and invest in your business. With certain card programs, you can also opt to include maintenance, which allows you to access additional credit when your vehicles need urgent repairs. Not having to free up room on your existing credit cards is an additional benefit, and it will help manage your business as new expenses arise.
5. Manage employee turnover.
Employee turnover is a constant headache, especially where drivers are concerned. In the transportation industry, nearly one-third of new drivers will quit within 90 days, and half will quit within the first six months of onboarding with a new company. Given the consistent turnover in the fleet industry, your company has to perfect its routine of onboarding drivers. A fleetcard program makes this easy by removing one point of stress for your fleet manager. They can easily call in to cancel or add cards and can even plan ahead if your business needs to lay off employees in the future. By removing one less stressor, your team can prepare for whatever changes lie ahead.
6. Create spending reports and plan for the future.
If you're a relatively new company, it's essential to take a look at your spending and plan for the future. A fleetcard makes this simple by breaking down your spending down into simple reports. This allows you to breakdown your spending per vehicle, per quarter, and for the entire year. Having a concrete idea of the complete costs of running your fleet allows you to make informed decisions about expanding, buying new vehicles, and adding new routes or locations.
7. Simplify your taxes.
If you operate large vehicles across state lines, the IFTA (International Fuel Tax Agreement) requires you to submit records of the fuel taxes you spent in each state. They will then distribute these taxes across all states you drove in, either issuing a refund to you or requiring extra taxes to be paid. If you are using a credit card or cash to track your spending, you will need to save receipts and manually record purchases by vehicle and state. Creating this report requires year-round effort, especially to avoid losing your receipts for each purchase. However, a fleetcard automatically captures this information and generates your IFTA filing for you, simplifying your accounting department's workload.
Additionally, your company can take advantage of dyed diesel, which doesn't include excise taxes for public road use. This is essential for construction companies, those with refrigerated vehicles, and those operating on private property. If your vehicle has a separate tank, or is used solely off-road, you can purchase fuel without the state and federal taxes included in the price. This saves you the time and hassle of filing for a refund! Alternatively, you can use your fleetcard to easily track the gallons you use off-road and apply for a tax refund after the fact.
Conclusion
As your business expands, you need to take full advantage of tools that help simplify your workload. A fleetcard allows you to monitor spending, implement controls, manage turnover, and create reporting for accounting and tax needs. You also gain an additional line of credit which helps optimize your cash flow and expand your business. If you want to learn more about how to implement this program for your team, reach out to P-Fleet today!