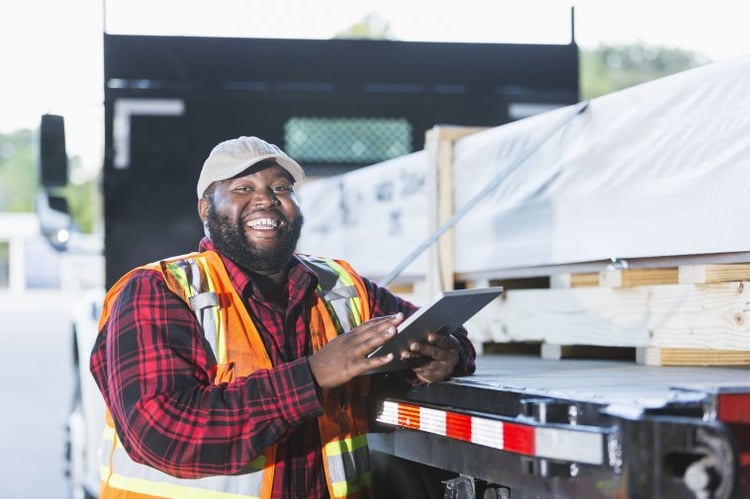 In an effort to better support our clients, P-Fleet has partnered with TermSync to enhance the payment and reporting functionality of its website. This partnership expands your fuel card payment options, allows you to apply credits to specific invoices, and provides easy access to your complete transaction history. If you have any questions about using the new portal, please reach out to P-Fleet's customer service team.
Learn more about our fuel card programs →
A variety of fuel card payment options
P-Fleet understands that your business benefits from having multiple payment options, so our new payment portal allows you to pay by electronic funds transfer (EFT) from your bank account, credit cards, or debit cards. You can even alternate between options when cash flow is tight, allowing you to extend credit if necessary. Our EFT and debit card payments are complimentary, but please note that TermSync charges a 2.75% fee for credit card payments. However, many companies accrue points and other benefits when paying with a credit card, so it can be worth the extra charge depending on your situation. You also have the ability to pay by phone if it is more convenient for your team.
Receive your invoices and access the portal via email.
At the end of each billing period, you will receive an email with a direct link to view your latest invoice. From that email, you can click through to your online portal, view your transactions, and make a payment. This email will come from the address termsync@termsync.com, so please ensure these emails do not get placed in a spam folder, as this will be our primary way of sending payment reminders.
View your fuel credits and apply them to invoices.
If your company has credits saved to your account, you can easily apply them to open invoices. P-Fleet allows you to save the credits in your portal and use them when you want. Keeping track of any credits and having the option to apply them when you want is helpful to many businesses.
View invoices and payment history.
Your P-Fleet online account saves your entire transaction history, making it easy to review your fuel card payments and download historical invoices. This makes it simple to compare your usage, calculate total spending for audits and taxes, and more. P-Fleet can also assist you in creating complex reports based off your invoices, allowing you to total your spending by fuel type, state, driver, job number, and more. If you need additional reports or documentation, please reach out to us so we can explore possible solutions to help support your team.
Conclusion
We hope that our partnership with TermSync will provide additional flexibility and convenience for your company. If you would like a walkthrough of the portal or need additional assistance, please reach out to P-Fleet's customer service team.