See Why P-Fleet is a Preferred Fleet Fuel Card Provider
P-Fleet specializes in fleet cards for any business and on any budget. As one of the leading fleet card companies, P-Fleet understands the challenges involved with running your fleet efficiently and cost effectively. We provide the convenience of multiple fuel networks, including CFN cards, Fuelman cards, and Voyager cards, under one company so that you can choose a fueling strategy specific to your needs. We realize that one fuel network does not necessarily fit all - because no two customers are exactly alike. With our custom fleet fuel card solutions, your company will see immediate, measureable results.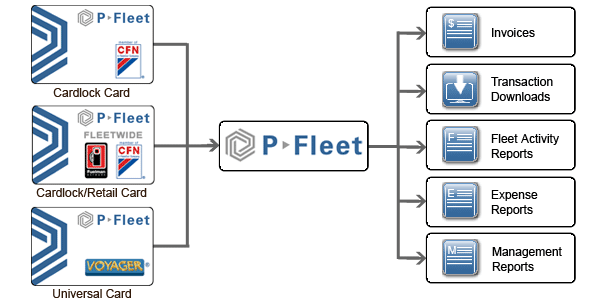 P-Fleet CFN Fleet Card - Access the largest nationwide fuel card network with cost plus pricing, including 3,000 CFN sites.
P-Fleet Fuelman Fleet Card - Access CFN wholesale sites and an extended network of 50,000 truck stops and retail stations nationwide, including Chevron, Texaco, Pilot, Love's, Flying J, and Fuelman sites.
P-Fleet Voyager Fleet Card - Access over 90% of all fuel sites nationwide with P-Fleet's universal fuel cards, including 230,000 major brand truck stops and retail sites.
Companies with mixed fleets or multiple branches have the flexibility to select the company fuel cards that fit different employees, branches, departments or fleet divisions. For example, a company with both local and long-haul fleets may choose to use our CFN fuel card for its local trucks and our CFN/Fuelman fuel card for its long-haul trucks. Similarly, companies with heavy trucks and off-road equipment may choose our CFN fuel card and select our Voyager fuel card's universal fleet card coverage for foremen and upper management. If you oversee multiple branches, you have the convenience of multiple fuel card networks from which to choose. All transactions are consolidated into reports and invoices to simplify reviewing purchases.
Manage your company fleet credit cards on your terms. All of your fleet fuel card transactions are summarized with our comprehensive expense reports. Reports are available to give you a complete picture of driver and vehicle activity and to streamline the processing of fleet expense information. Fleet card controls can be adjusted for individual drivers and vehicles, allowing you to customize each fuel card for every user in your organization. There are no account setup fees, no monthly card fees and no fees for ordering new or replacement cards.
With flexible commercial fleet card programs that fit your needs and no hidden fees to worry about, P-Fleet puts you in complete control. And our industry best fleet card tools will give your bottom line top-of-the-line results. We provide fuel cards for small business, mid-sized companies and some of the largest fleets in the country.
Please visit our contact page to find out more, or call our fleet fuel card specialists at 800.499.4645. If you're ready to take control of your company fuel cards, give us a call today!