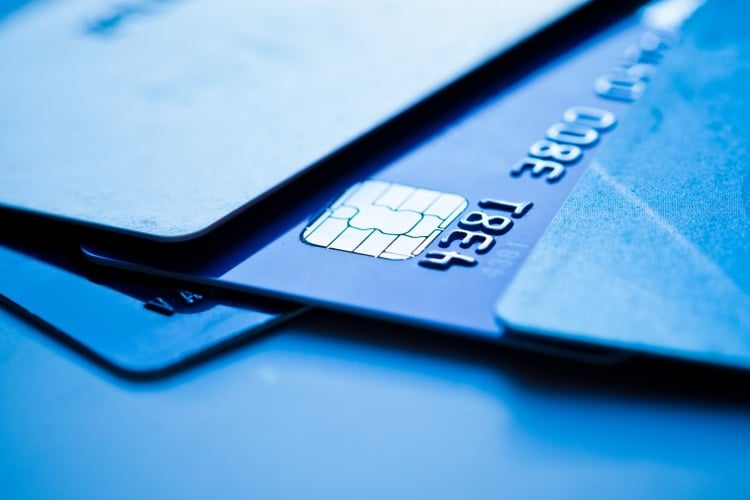 While smaller companies can manage using debit cards or cash, a corporate fleet card is essential for larger businesses and fleets. In addition to added security, you gain comprehensive reporting to monitor your drivers, easy tax filing, online account management, and an extra line of credit to help balance company finances during expansions and busy seasons. Learn about our fleet card products.
A corporate fleet card adds a layer of security.
As your business expands and hires more drivers, it becomes increasingly difficult for management to track all fleet expenses and ensure each transaction looks legitimate. Companies that use a traditional credit card or rely on cash or reimbursements are at risk of abuse. A corporate fleet card allows you implement a customizable program to track employee spending. How you use these features will depend on the size of your fleet and your business needs, and your provider can help determine the right options for you. You can also create customized controls based on your needs. You can limit fueling to specific times or days, set transaction limits per day, week, and month, and lock out states that your drivers will never visit. With certain cards, you can even set purchase controls to diesel-only so you ensure drivers can't refuel personal vehicles on the company account. In addition to controls, you can setup transaction alerts that notify you of suspicious purchases (like after hours, weekends or unusual products).
Regardless of what controls you decide to use, you should implement a driver fuel card policy. Review expectations with your team, including who can use the card, what purchases are allowed, when and where can the card be used, and any specifics about how purchases should be made. After this training, require all drivers to sign and date an agreement and give them a copy of your policy.
Implement custom reports and driver monitoring.
Another simple way to stay on top of fleet spending is to generate reports which help you compare driver spending and notice if someone on your team is fueling irregularly, spending more than usual, or filling up outside of work hours. Noticing these issues early can help you quickly follow up with your drivers and review your driver fueling policies.
A sudden increase in fuel spending on a specific vehicle can also indicate maintenance issues, so it's essential to pay attention to your fleet's fuel consumption. While this can be difficult to do with a cash or credit card-based program, your corporate fleet card will automatically flag these issues for you. If a vehicle suddenly starts using more gas, it is typically a symptom of these issues:
Delayed or Slow Oxygen Sensors
Inaccurate Coolant Sensor
Defective Engine Thermostat
Engine Misfiring
Worn or Fouled Spark Plugs
Dirty Fuel Injectors
Low Compression
Intake Manifold or EGR Valve Leak
Dirty Air Filter
Wrong Oil Viscosity
Clogged Converter or Exhaust Restriction
Slipping Clutch or Transmission
Deflated or flat Tires
Inefficient Brakes
Too Much Weight in Your Vehicle's Trunk
By noticing issues with your vehicles quickly, you can fix small mechanical issues before they cause a more expensive problem, saving your company a ton of money down the road.
Corporate fleet cards simplify tax filing and provide fuel tax exemptions.
If your company has large trucks that cross state lines, you are required to submit transaction reports for the International Fuel Tax Agreement (IFTA). The IRS will calculate the fuel taxes you spent in each state and equalize this across the board, either issuing a refund or requiring extra taxes to be paid. If you are using a credit card or cash to track your spending, you will need to save all receipts and manually compile purchases by vehicle and state. Creating this report requires a lot of time for your accounting team, especially if receipts have been lost. However, a corporate fleet card program automatically captures this information and generates the report for you, simplifying your accounting department's workload.
If you qualify for any fuel tax exemptions for off-road equipment or agricultural hauling, you can also work with your provider to put these in place. Depending on your needs, you can automatically deduct taxes at the pump or create an automatically generated report which you can file for tax refunds.
Take advantage of online account management.
As your fleet grows, it's essential to be able to make changes to your program immediately. A corporate fleet card allows you to add and cancel cards, adjust limits, and view transactions and invoices all from your desktop computer or mobile device. You can also make payments online, apply credits to your account, and generate reports to help guide the decisions of your management team.
Utilize an extra line of credit.
For companies that are growing quickly, trying to manage cash flow can be challenging. Having a designated payment only for fuel helps alleviate the use of other cards, allowing you to allocate spending for equipment and improvements without impacting your fleet. Depending on the program you choose, you can also allow maintenance charges, which allows your team to tackle urgent vehicle repairs quickly and easily.
Conclusion
If you spend time coordinating payments for your team or tracking down fuel receipts, you are in a prime position to use a corporate fleet card to simplify your business. In addition to the added security that comes with a dedicated program, you also receive custom reports to help monitor drivers, statements to aid with your tax filing and fuel tax exemptions, online account management, and an extra line of credit to help manage your expenses. All these features make a corporate fleet card an ideal solution for businesses.